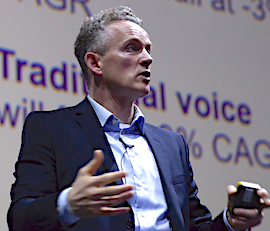 A more critical period for the industry cannot be recalled, but the current upheaval creates not just a disruption of  traditional comms, it provides a welter of opportunities, says Gamma CEO Andrew Taylor.
From the moment Taylor took over from former Gamma CEO Bob Falconer in May last year he began to prepare the business for the next phase of its development on a number of fronts, with plans for product and service development, more comprehensive partner support programmes and a push on European expansion. Indeed, analysis of Taylor's discourse shows a near obsession with the channel as an engine of growth, and he lauds its capacity to be the driving power of digital transformation.
"The channel has disrupted the market, taken significant share from the incumbents and driven technological change in our industry," he stated. "Take the move to VoIP and cloud – UK penetration levels are the highest in Europe. The channel is the driving force behind a market shift towards SIP and cloud telephony, with 10 per cent and 20 per cent annualised growth respectively."
According to Taylor, BT's ISDN switch off is both an opportunity and a threat, and on this he issued a word to the wise. "Partners should remain vigilant about their existing base, ensuring they are moving their customers onto next generation solutions," he urged. "I am convinced that the channel will be a driving force. This transformation will not be easy, but once on the journey it radically changes a channel partners' business model and significantly enhances the value of their organisation."
On UCaaS, Taylor envisages another new dawn of opportunity. "UCaaS has become a key component in the digital journeys organisations have embarked on as they seek to gain a competitive advantage in their own markets," he stated. "The channel, which has largely secured the SIP market, is primed to lead the UCaaS charge over the next five years, providing a network enabled service to business customers. This gives partners a competitive edge against the over-the-top players."
Partner business models have dramatically changed with recurring revenues and the move to SaaS
In the context of mobile and data markets it is true that the overall growth for data is flat, and that the national upgrade to new fibre-based broadband services is having a negative impact on revenues and margins across the industry, observed Taylor. "That said, it's encouraging to see that the channel continues to outperform and remain competitive when selling data products, regardless of their similar feature set and purchasing decisions being heavily influenced by price," added Taylor. "We would advise caution on the opportunity in the data market as it becomes a race to the floor on price, ultimately adding no value."
As with portfolio development, Taylor's overall handling of opportunities for Gamma and its partners has been deft and also displays optimism in the face of market challenges. "Differentiation and a strong value proposition are essential to overcoming the threats faced by the channel," he stated. "Customers can buy almost all services digitally, so partners need to scope out where their value lies to remain relevant, looking beyond products to the experience provided to a user, team, business and customer. Furthermore, with new entrants to the market, including the larger US players, it's essential to choose partnerships carefully by asking the key question, 'will they add or destroy the value of my business?'. For these new entrants their opportunity is the channel's margin, and over time they will look to marginalise channel partners and go direct."
It cannot be too much to imagine the channel stepping up its challenge to the incumbents and winning, claims Taylor, who explained how Gamma has been ratcheting up its own mechanisms to prepare partners for their market campaigns. "We have worked hard to meet our short-term commitments while planning for the longer-term strategy," commented Taylor. "Gamma has a clear set of objectives and priorities to support the channel.
"Personally, I have spent much time with channel partners to understand where we should be placing our efforts. This approach, for example, has enabled us to address our deliverables on Horizon while ensuring that we launched Collaborate, our first step in becoming a full UCaaS provider and a significant milestone. We also introduced our subscription management service and will shortly roll out a new Horizon voice recording platform and cloud contact centre solution, which will be fully integrated into Horizon and is being provided by our partner Cirrus."
Taylor's tactics are clear – to change up a gear not only on home turf but also abroad. "We are on plan with our international expansion strategy and have already made a couple of acquisitions in the Netherlands," he explained. "Our long-term focus is to develop a presence in key European markets where cloud penetration is low – under five per cent compared to 24 per cent in the UK – and we have ring fenced a dedicated team focused on our European business so there is no distraction from the important work we are doing in the UK."
As we have seen, Taylor's broader UK channel plan involves a heavy investment into products and services which comes with a strong emphasis on ensuring the integrity of Gamma's network and application platforms via a governance structure which is audited by external specialists. Another core message is that Gamma's focus is not particularly around increasing the partner base but more around strengthening current partner relationships.
"We have invested heavily in the Gamma Academy and the Gamma Accelerate digital marketing platform with a view to better enabling our partners," said Taylor. "During the last 18 months we have also augmented the sales, marketing and commercial support. During the last six months, for example, we ran almost 12,000 training courses, an increase from 8,000 in the same period in 2018, and we are running over 350 marketing campaigns a month with partners. We have also increased the size of our channel sales team and structured it geographically to provide better and more local support to our partners."
Taylor, like his predecessor, has shown himself to be a chief champion of the UK channel, for good reason. "Despite Brexit I continue to be positive about the communications sector and our ability as an industry and a channel to show resilience during a period of economic uncertainty where business confidence is low," stated Taylor. "Historically, our industry has shown robustness and is well placed to ride out any eventualities, especially when you consider that the overall financial performance and business model of our partners has dramatically changed in the last 10 years with recurring revenues and the move to SaaS. I believe they are best in class when compared to other European countries. As well as working hard and being commercial in their dealings, the channel also finds time to have fun."
Andrew Taylor in profile...
Taylor has over 22 years experience in the telecoms sector and a strong track record of achievement in previous roles, both in the UK and internationally. From 2013 to 2017 Taylor was Chief Executive Officer of Nomad Digital, a provider of IP connectivity and digital solutions to the global transportation industry. He was responsible for establishing Nomad as a major player in the sector, and when acquired by Alstom in 2017 it served over 50 global customers from 20 offices.
Before joining Nomad, Taylor was Digicel's Regional Chief Executive Officer (2012-2013) with responsibility for fixed and mobile operations across the Northern Caribbean. His remit included all fixed network services and business/ICT solutions within 26 international markets. Taylor is credited with driving significant growth in both Digicel's revenues and profitability.
From 2008 to 2010 Taylor was Chief Executive of Intec Telecom, a provider of software solutions with over 400 customers located in 120 countries, and served by over 1,700 employees. After a period of significant growth and business improvement Intec was acquired by CSG in 2010.
In the period before 2008 Taylor held a number of management and operational roles across the telecoms industry including senior positions at Alcatel-Lucent and British Telecom.