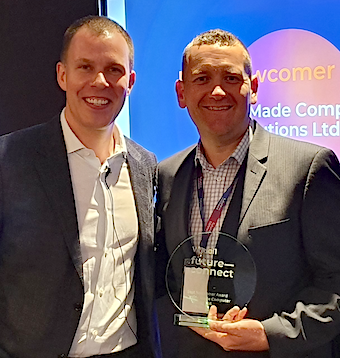 It's a measure of how far a channel focused company has progressed when it runs its own partner event, and the attendance at Virtual1's inaugural Future-Connect event last month underlined the reputation Tom O'Hagan's business has gained.
There was standing room only in the presentation theatre of the Montcalm Hotel, adjacent to Virtual1's offices in London, where a succession of speakers from Virtual1's own knowledge bank, alongside Openreach Product Director Mark Logan, Juniper Networks Director Scott Alexander and Pangea Managing Director Dan Cunliffe, gave delegates a quickfire education on the expansion of Virtual1's data network, the rise of SD-WAN, the progress towards the ISDN switch off, the acceleration in 5G roll outs and all the opportunities these will present to resellers going forward. 
"We were oversubscribed for the event which shows how much we are growing," said O'Hagan. "We are adding 20% to our reseller base year-on-year. 
"We have 450 channel partners now and we wanted to tell them what we're planning for the year, what's coming in the future, give them some insight into some of the technology changes that are happening in the market and also reward them for some of the fantastic deals they are doing.
"One thing we're good at is taking customers that have been or are in traditional markets. Ultimately, we're training them and helping them be successful and get into new markets themselves."
The event concluded with the first Virtual1 partner awards. The winners were: Growth Partner of the Year – Onecom; Marketing Campaign of the Year – South West Communications; Collaborative Partner of the Year – Incom CNS; Portfolio Partner of the Year – Opus Network Services; Best Vertical Specialist - Global 4 Communications; UC Cloud Award – Charterhouse Voice & Data; Deal of the year Award – Glemnet; Best Newcomer Award – Taylor Made Computer Solutions; Cloud MSP Award - Focus IT; and WAN Deal of the Year - STL Communications.
Pictured: Steve Fenner, Head of Operations at Taylor Made Computer Solutions, collects the Best Newcomer Award.