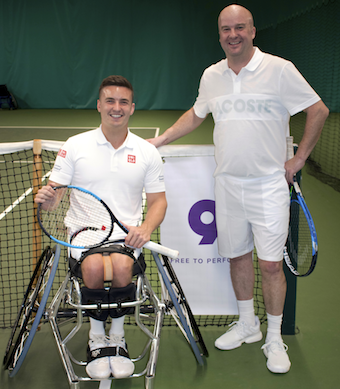 Reseller partners of 9 Group enjoyed an unforgettable challenge last month by taking on British multi-grand slam wheelchair tennis champion Gordon Reid on the hallowed turf of the famous Queen's Club in London's West Kensington. 
Whether playing the 2016 Paralympic gold medallist in wheelchairs or not, the partners learned a simple lesson – champions are champions for a reason, and if you have the resilience and determination to succeed you can become unbeatable.
Lee Waller, Director at Yello, said: "This was the most enlightening experience I have ever had. To experience what it is like to have an ability most of us take for granted, temporarily taken away, yet still be able to play sport, was truly inspirational and enjoyable at the same time."
Reid, a Brand Ambassador for 9 Group, was impressed with the partners who had to quickly learn how to manoeuvre around the court in wheelchairs and try to master the unique backhand stroke used by many wheelchair tennis players. 
"It was a pleasure to welcome so many of 9's guests and staff to The Queens Club," he stated. "Their enthusiasm was infectious, and they adapted really well to playing from a chair."
9 Group Marketing Director Mark Saunders commented: "Thankfully, no fingers were lost to rapidly spinning wheelchair spokes and it was immediately evident that the competitive spirit had been unleashed. 
"Gordon re-joined the 9 party at the Hilton Park Lane Hotel for the Comms National Awards, where he presented The Nine Customer Service Awards and was interviewed on stage by host, Huw Edwards. 
"The following morning, he flew to Tokyo to take part in an exhibition match with Roger Federer, no doubt benefitting from the challenges posed by his workout with 9 at The Queens Club!"
Adam Cathcart, MD of Partners at 9, summed up the day: "Having the privilege to play tennis at the historic Queens club with three times Wimbledon Champion and Paralympic gold medallist, Gordon Reid, was a once in a lifetime experience."
"He is an exceptional athlete and a fantastic ambassador for both 9 and the tennis community."
Pictured: Wheelchair tennis ace Gordon Reid and Lee Waller of Yello.