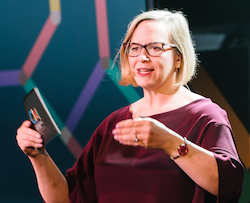 How carriers perform on the full fibre stage could decide their fate, and it is hard to imagine a more determined protagonist than TalkTalk Business Managing Director Kristine Olson-Chapman.
There is no disagreement that the UK needs more fibre in the ground, and all agree that the answer is to fully mobilise the comms industry – which means looking for a clear market lead from the likes of TalkTalk Business. It has prepared the ground for a full fibre push, moved to the centre of the fibre debate with a thought leadership agenda (set out at its Connectivity Matters Summit in May), and shown itself as an impactful force of change with deft strategic planning, illustrated by its FibreNation venture, wholesale ambitions and determination to accelerate the task in hand.
"We want to give partners the best FTTP proposition as early as possible so they can land grab before their competition," stated Olson-Chapman. "To support demand we're investing heavily in our core network and access product portfolio, particularly fibre optic variants. Ultimately, fibre performs more consistently for the customer and our partners. It leads to happier clients, less churn and a greater lifetime contract value."
From all corners of the land this is the season of full fibre expansion, and Olson-Chapman is championing fibre on the basis of it being increasingly key to the UK's digital future and crucial to the future of channel partners in meeting the requirements of a bandwidth hungry business population.
"Our objective is to help partners easily move their customers up the bandwidth ladder – from copper to fibre broadband products, lower bandwidth Ethernet up to 1Gb variants, and now we're unlocking the new frontier of FTTP products," she said. "The development of those products and the service experience for partners is vital."
It is true that the nation's digital project is entering a critical phase, which is reflected in the rise of coopetition. For TalkTalk Business, bilateral accords have been reached between what were once diametrically opposed positions, as it works in partnership with Openreach, as well as altnets and its own FibreNation business. "There's currently no standardised product, service levels or commercials for FTTP, so we're collaborating with these providers to create a simple offering for TalkTalk's partners," explained Olson-Chapman. "We need a proposition that insulates partners from complexity and provides easy access to the patchwork quilt of FTTP builds taking place across the UK. It feels like Local Loop Unbundling all over again, and we can't wait to disrupt the market and deliver the latest connectivity products to our partners and their customers."
We want to give partners the best FTTP proposition as early as possible so they can land grab before their competition
Olson-Chapman's strong intent to drive disruption reflects how far the market has moved and how quickly it is accelerating as demand for bandwidth multiplies by the day. "The traffic on TalkTalk's core network increases by 30-40 per cent year-on-year," commented Olson-Chapman. "That gives you an idea of how fast bandwidth demands are growing. Furthermore, it is exceptional for a provider of our large size to register 12 per cent growth in data service revenue last year, driven by our partners who represent over 80 per cent of our revenue. We're ahead of the pack with our broadband and Ethernet portfolios, we supply almost half of the wholesale broadband market and we will continue to grow our connectivity proposition – with FTTP being the next technology milestone."
Olson-Chapman hopes the march of full fibre will comprise the greatest industry effort possible. But one of TalkTalk's biggest challenges is recruiting great people, particularly for technology roles. It's a quest that taxes the entire ICT industry, more so now than ever, and a big part of the answer lies in greater gender diversity, believes Olson-Chapman. "If we don't appeal to women we lose out on 50 per cent of the talent that could drive our business and Digital Britain forward," she stated. "So our People Service team is focused on attracting talent at a young age. This is essential as there is a clear gender imbalance in technology jobs at a graduate level."
The relocation of TalkTalk's HQ to the Soapworks in Salford Quays brought opportunities to forge links with local educators such as The University of Manchester and Salford Business School. "That's helped us to bring in 50 graduates to fill technology roles in the last 12 months," said Olson-Chapman. "Approximately 20 per cent have been promoted and 95 per cent are still with us. Our Early Talent Manager also searches for youngsters who decide not to go to university; and we endeavour to inspire more young woman to consider telecoms when they're choosing their career path."
When American born Olson-Chapman left university at the age of 22 a career in telecoms was not, it is safe to assume, considered when she immediately booked a one way ticket to London and a hotel reservation for one night, ahead of arriving with $300 in her pocket and an open mind. "Leaping into another country was a completely transformative experience," she said. "But with the risk came reward. It changed my view on life and my sense of self."
Olson-Chapman's own career map shows how she came to embody a strong customer service ethos, instilled during her immersion in the world of Fast Moving Consumer Goods at Unilever where she developed business strategies based on an understanding of what motivates customers. A ten year stint at American Express followed, during which Olson-Chapman held European Marketing roles.
"My move to TalkTalk was motivated by two main factors," she explained. "I wanted to work in a third industry with different challenges to my previous experience in consumer goods and finance. And I was drawn to the exciting pace of innovation and change in the technology industry. Haircare and credit cards are much the same as they were 20 years ago, but telecoms has completely transformed and the pace of change is accelerating ever faster. I wanted to be with a company that is spearheading that disruption."