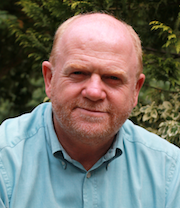 Exclusive Networks UK Managing Director Graham Jones explains how Attila the Hun helped to turn a page in his life's narrative and start a new chapter in the distributor's UK story.
Exclusive Group racked up organic growth of 31 per cent and total revenues of 1.4 billion euro in 2015. Acquisitions helped to push the distributor past the one billion annual revenues target nearly two years ahead of plan, and a strong performance in the UK generated 55-plus per cent yearly growth under the leadership of Jones. He hasn't always flown so highly, having nose dived to a career low point earlier in his working life. But the experience proved to be a springboard of great significance.
Down on his luck, Jones found inspiration from a book on Attila the Hun, developed new perspectives on doing business and was revitalised when he plugged his career prospects into the Exclusive Networks powerhouse. "Being out of work for a year and a half was challenging," he stated. "You find out who your real friends are and you realise how quickly your network can evaporate. Joining Exclusive Networks UK in 2012 reinvigorated me in many respects. I brought my new perspective when I came back into the industry and it's proven to be invaluable."
To say Jones does business by the book would be an overstatement and simplistic, but nonetheless it is an accurate assessment of one the biggest influences on his career path. "I was luckily enough to meet Tom Day who wrote an incredible book called The Leadership Secrets of Attila the Hun, which explored business warfare," he added. "How Atilla won his crusades is translated into a business context. These perspectives gave me a great understanding and new outlook on how to approach business."
Jones's own story is characterised by a fighting spirit and a flare for turning adversity into a triumph of self-determination, a trait that helped to set him on his career path in technology at an early age. "I wasn't particularly interested in school and failed most of my A Levels," he stated. "The only course available to me was Computer Studies at Liverpool Polytechnic. Luckily, I excelled, passing with two distinctions and caught the IT bug. I then met a guy who was opening the first microcomputer shop in the UK, in Liverpool, and eventually went to work with him. I sold one of the first Apple computers in the UK, which is now housed in a science museum in London."
Fast forward to July 2012, Jones breezed out of the doldrums and became Country Manager at Exclusive Networks with a remit to scale up for growth. "I have restructured the business slowly over three years and now have a great leadership team and great people, all key to a strong and agile company," he said. "That's played a huge role in our year-on-year growth and our strategy, which we continually refine. Keeping our character and culture will be key to maintaining that growth trajectory and passing the half billion mark in the UK by 2020."
These stellar figures show how far the company has travelled. It began life as an IT VAD called Techniland based in France. Olivier Breittmayer, CEO, advanced the idea that 'exclusivity' in channel partnerships based on a shared vision and mutual support should have more presence than just strategic policy, so Techniland underwent a rebrand to Exclusive Networks, a name that reflected the firm's key messages.
Its acquisition of VADition was the first big milestone in the UK. Other turning points were achieved when the Group hit the billion euro mark and the UK arm reached 200 million euro. In terms of future revenue, Jones expects to see more software driven solution sales with an increased uptake of cloud services, although he's not yet clear on what that means for Exclusive. "Will we become a cloud aggregator, or offer our own cloud to the SMB base? This is going to be an ongoing challenge for all distributors over the next few years," he commented.
The ever-changing nature of the security market also keeps Jones on his toes and he is ready to move quickly in response to industry developments . "In many ways we're totally driven by the hackers," he stated. "As the security market becomes more mainstream we are seeing a lot more people try and treat it as a commodity. That doesn't work. You've got to have the back-up, the tech, the pre-sales, the marketing and account mapping with vendors, while helping our VARs grow their businesses. We are consultants to our VARs and, in turn, VARs should be the same to their customers. The VARs being acquired are the ones who understand this."
Jones is keeping a keen eye on trends like security-as-a-service having witnessed a change from shipping lots of hard and software to simply providing license keys. "A main strand in our growth strategy is staying close to good vendors like Fortinet and Palo Alto," he commented. "We evolve with them to fill any gaps that come from their growth. Our approach has always been striking a balance between changing our strategy daily while also standing still. It's about being consistent while remaining agile enough to move with the times. It's a fine art to get right."•