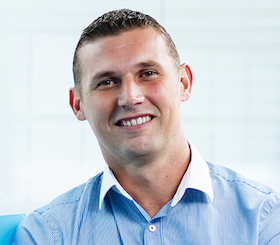 Following the launch of Giacom's Cloud Market, Managing Director Mike Wardell sets out his stall for accelerated channel growth.
In September fast growing Giacom advanced its growth ambitions by introducing its substantial IT reseller network to the Cloud Market, which replaced the MessageStream brand, in a move that enables resellers to more easily sell and license cloud services. "Resellers can provision cloud services such as Office 365, Signature Hosted Exchange, Acronis Backup Cloud and Bitdefender GravityZone in minutes," stated Wardell. "The launch of the Cloud Market comes at a pivotal point in our journey."
The journey began in 1999 when Nick Marshall established Giacom as an ISP selling dial-up services. Fast forward 18 years, and during the past 12 months the company's headcount has grown from 36 to 47 and will approach 60 within 12 months. Revenue of £6.6 million was recorded for financial year 2016, rising to £13.9 million this year with a forecasted £20 million-plus in 2018. "The number of businesses we support has exceeded 40,000, up by circa 15,000 in the last year," stated Wardell.
Channel partner numbers have risen by around 1,000 over the past 18 months and currently stand at more than 4,000. This growth rate is expected to continue. "Giacom operates an indirect-only model," added Wardell. "We base our product development and vendor strategy on the SMB space, ensuring our products are simple, straightforward and aligned to this target market."
Giacom currently has six anchor product categories: Email services; Office 365; security, backup and disaster recovery; voice and connectivity; IaaS; and business solutions. "We plan to broaden the product set in each of these categories," explained Wardell. "Rising cloud adoption continues to drive the market opportunity for us, as well as our footprint in the SMB space. So we have spent the last 12 months building the enablers to ensure that we can effectively support our customers, and we are working with vendors that can fulfil demand."
Giacom's six product categories are the pinnacle of a strategy that has been under constant development since the company's inception. The portfolio has evolved, in chronological order, from web email and server hosting; proprietary email security; the launch of the MessageStream platform; and the subsequent launch of Hosted Exchange which enabled Giacom to refocus as a channel-only business. Hosted SharePoint and back-up services were added and in 2015 Giacom was awarded Microsoft CSP 2-tier status and was named Best New Partner at the 2015 Global Cloud Summit.
Last year the company secured a minority investment from LDC, after which Wardell joined the business. "Our strategy then evolved to focus on offering additional value to our customers by providing access to a greater number of vendors and products, developing the user interface and adding more services," said Wardell.
This year, Giacom introduced hosted voice via TalkTalk Business and welcomed Bitdefender to the Cloud Market. Giacom was also listed in the Times Tech Track 100 for the first time. "In June 2017 we reached over 200,000 licences, and at that point had the largest licence volume of any Microsoft CSP in the UK," noted Wardell. "The LDC investment provided the impetus and freedom to invest more heavily, as well as look further into the future. Our strategy is to develop the Cloud Market, improve the customer experience and add new cloud services and products, while continuing to retain our place in the cloud distributor race."
According to Wardell, rebranding from MessageStream to Giacom Cloud Market will help to reinforce the Giacom name and raise its profile in the channel. "The opportunity for us is to deliver services in a simple and straightforward way, but the related challenge is ensuring we don't compromise our proposition and values in order to satisfy customer demand," he added.
An important market trend noted by Wardell is the growing number of millennials entering the workforce, which he says is helping to drive up cloud adoption and on-demand applications. "Cyber security is also a hot topic that we need to help our customers through, and GDPR is front of mind," he commented. "Keeping abreast of these changes ensures that we are able to help our customers overcome any challenges, and allow them to take advantage of the opportunities they provide.
"Giacom's objective is to become a 'true marketplace' providing all the cloud-based services an SMB requires. This will be achieved by staying focused on our Cloud Market roadmap and selecting the vendors that fit into our values and proposition."
When designing the new platform Giacom prioritised the key requirements of resellers, such as easing the customer journey, simplicity in its usage and availability on any device. "With several exciting product launches planned, our customers needed a modern, easy to use and flexible way to manage and deploy services," added Wardell.•