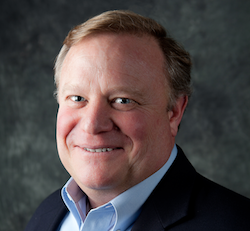 Edgewater Networks is bidding to become a major European player in the UC market as demand for Network Edge Orchestration booms, according to CEO David Norman.
US tech giant Edgewater Networks aims to quadruple revenues and double staff numbers within five years. Its growth plan includes a European expansion campaign under the headship of former BroadSoft exec Mike Wilkinson who was unleashed as VP International in January 2018 (more on his strategy below this article). The San Jose-based company provides Network Edge Orchestration (a hybrid cloud-edge approach to service assurance and security for UC) exclusively through partners that offer UCaaS to the SME and enterprise market. Channel partners include Tier 1 MSPs such as AT&T, Comcast, Charter and Cox, as well as an emerging Tier 2 and 3 channel. Norman bullishly claims to own the largest market share in North America and the number two position worldwide. "Many of our global customers and partners are moving into Europe," stated Norman. "So we are expanding the breadth of the company geographically while moving forward with the next generation of products."
The company introduced its customer premise-based EdgeMarc Intelligent Edge in 2003 to offer service assurance for IP voice and video applications. In 2005 Edgewater Networks launched the EdgeView Service Control Center, a pioneering cloud-based controller. "Our biggest opportunity now is the SD-WAN market," added Norman. "This year we will introduce our SD-WAN platform for SMEs and continue to reach into multiple growth markets including UC analytics and edge NFV. We are also advancing the development of our Network Edge Orchestration platform with zero touch provisioning and advanced UC analytics.
"In terms of big data and data analytics, look at where Edgewater Networks sits in the path of the packets of every location - we have 635,000 locations collecting information, and to make sense of that in a way that is easily digested, solves problems quickly and enables predictive maintenance is exciting."
Edgewater Networks currently employs 125 staff, generated over 25 per cent year-on-year revenue growth for the past three years, has 20 million-plus connected endpoints and more than 635,000 EdgeMarc Intelligent Edges under management. "The target market is distributed organisations and the movement of their applications from premise to the cloud," added Norman. "We've done a number of market studies that show how SMBs in the United States are moving to unified communications. But the market's only 15 per cent penetrated, so there's much work to be done in tying the legacy to the new and helping that transition."
For Norman, technology seemed the obvious career option. He grew up in Silicon Valley and was influenced by his tech sector entrepreneur father who established a company called BusinessLand. "When I was 16 years old he took me on a trip to Japan where he had meetings with computer suppliers such as NEC, Fujitsu and Canon," said Norman. "That got me thinking about business at the start of the personal computer and networking industry. BusinessLand became one of the largest network integrators in the world."
To augment this early business experience Norman gained an electrical engineering degree at UC Santa Barbara. He chose the school because it also taught Japanese. "I always knew that I wanted to be in high tech," added Norman. "And I had seen the language difficulties during my father's business meetings in Japan."
Next came a stint working for market research firm Dataquest, followed by a spell at document imaging company Cornerstone where he ran Asia Pacific and parts of the international business. Norman then became an independent consultant and private investor to technology start-ups. He also implemented First Virtual Communications' global strategy and built the company's international presence in Asia, Europe and Latin America. This start-up was co-founded by Ralph Ungermann who is considered to be a founding father of the data communications industry. Norman is also inspired by Japanese billionaire investor Masayoshi Son, founder and CEO of Softbank, with whom he had weekly meetings during an erstwhile joint venture.
"As the first field sales guy at First Virtual Communications I ended up running its international arm," recalled Norman. "I got to know the business well and that led me to wanting to start a company myself, so I founded Edgewater Networks with my son in 2002. Our mission from the outset was to build on 15 years experience in scaling network services and provide solutions that make the deployment of voice and video over IP more simple and economical. The overall proposition is to simplify and secure IT applications via our hybrid cloud edge solution. The journey has been challenging, but that's what makes it fun."
Norman is focused on UC, fully aware that devices will become more and more important and intelligent. "It's an exciting time for distributed communications and UC," he commented. "The mixture of different architectures is driving a significant movement to the cloud, so the edge and the cloud need to combine and orchestrate together, putting Network Edge Orchestration front and centre."•
Wilkinson leads Edgewater bid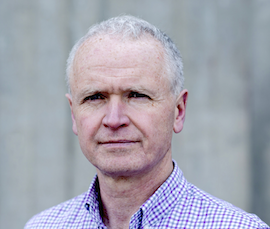 Former BroadSoft exec Mike Wilkinson is relishing his new Edgewater Networks VP International role as the US giant bids to expand across the UK and Europe. Having previously heard about Edgewater's strategy and capability to solve problems faced by service providers in the region it didn't take Wilkinson long to snap up the opportunity he was presented with to lead the charge in an area that reflects his own experience.
"I spent many years at BroadSoft where it was my role to help operators deploy and manage large unified communication and collaboration solutions," he explained. "I saw first hand the issues they faced and was always looking for solutions to solve them. My new responsibilities are to develop new business with both service providers and channel partners in Europe and potentially further afield."
Wilkinson's main priorities right now are to get Edgewater products designed into the solutions of the UCaaS providers he is targeting. "This is a relatively long process because certain service providers' product introduction cycles tend to be lengthy," he commented. "As such, we have to be detail-oriented and go through a number of different service concepts. Once we've done that we can start working with UCaaS providers on deployment. In terms of challenges, in a lot of cases each service provider we work with can be individualistic in regards to their organisational structure and the workflows they have in place. You have to understand that dynamic and fit your product into the best possible areas. So a process of thorough consultation is required."
Wilkinson identified three key growth areas that most occupy Edgewater's focus and strategy - real-time session security, UCaaS service assurance and SD-WAN. "It's a large market and there are plenty of opportunities," he added. "We have some partners working with us already and as we progress into more specialised niche areas we are likely to be working with additional partners, targeting at least five new service providers within 2018. We aim to build into the footprints of service providers that have already got relatively successful businesses and then help them to grow faster. Regarding the location of the business, we will put down roots where we see it being most conducive to the customer base we've already got."
The role of resellers in this scenario cannot be overstated, confirmed Wilkinson. "VARs and SIs have a pivotal role to play," he stated. "They're the glue between the customer base and the technology within the vendors and service providers. Over time they'll become increasingly specialised in terms of understanding the needs of their customers. Soon we will see more and more VARs and SIs gain specific vertical knowledge, take a portfolio of products and build solutions specifically for those verticals. You can already see this developing in the UCaaS market today with the likes of Fourteen IP and thevoicefactory."