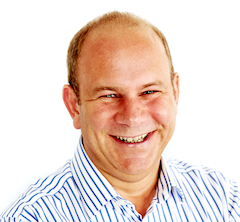 An impressive head of steam has built up in Inform Billing's growth engine, marking its tenth anniversary with an affirmation that innovation, investment and diversification remain the essence of its momentum, says MD Shaun Bodsworth.
Steeped in ambition, Bodsworth feels that Inform Billing's ten year milestone next month signals the dawn of a new chapter of innovation, diversification and technology partnerships. As well as his annual let-rip of hefty investments in the Eclipse NG billing platform, which has been refashioned for the age of automation, subscription models and the march of wider integrations, Bodsworth has sprung into action as he seeks to forge vital technology partnerships. "Our main focus is on developing partnerships and integrations with complementary applications to offer more joined up solutions," he stated. "And we will continue to develop automations to simplify the billing process."
Kicking off 10 years ago with sub-10 customers, Inform Billing's client base today is populated by almost 300 organisations operating across diverse sectors and ranging in size from start-ups to £100 million turnover businesses. Its financial figures are impressive, and are the telltale of an accelerating growth agenda. In its 2020 financial year Inform Billing expects to hit £1.7 million revenues, reflecting a 24 per cent increase in turnover on 2019 and a 49 per cent hike in profit. This builds on 25 per cent growth on the last financial year, bringing Inform's three year growth rate to 103 per cent.
Billing has become much more of a service package than a software requirement
"We have achieved this without external funding," said Bodsworth. "The focus has been on tightening up processes, collaboration, knowledge sharing, increasing professionalism and generally growing up as a business. Our investment over the past seven years in cloud-based platforms enables us to apply the same level of flexibility and functionality to bill new technology services. We eagerly anticipate the advent of full fibre, 5G and digitalisation."
Inform Billing has also been spurred by notable Comms National Award wins, scooping the Best Billing Platform gong in 2017 and 2019. According to Bodsworth the first award was as much symbolic as it was deserved, representing a turning point in how the business saw itself and was perceived by others. "Until then we had always been seen as a challenger," stated Bodsworth. "It meant a lot to be externally recognised as a serious and respected player in the channel."
It is a fact, says Bodsworth, that the extent and nature of a billing provider's investment and platform development is of upmost strategic importance to resellers. Inform Billing, for example, has so far invested over £2 million into its Eclipse NG billing platform and continues to plough 45 per cent of revenues into the ongoing development of the software in line with the demands of the market.
"Subscription-based services are gaining traction across the business world, with requirements to bill more complex consumption and event-based services such as Office 365, data back-ups and other IT related subscriptions," added Bodsworth. "While relatively straightforward, these have traditionally either been billed as a one-off or annual fee, or directly from the vendor rather than on a recurring wholesale model."
Inform Billing also supports subscription billing outside of the traditional telecoms space. Its software is used in a range of sectors including IT, mobile, IoT, security, utilities, waste management, banking and even hospitality. "We continue to develop partnerships in diverse markets relevant to the subscription economy, opening up future opportunities for Inform Billing and the channel," added Bodsworth.
Expectations also continue to build around integration. When resellers are looking to integrate two or more complex systems, such as billing and CRM, the complexity of implementing any meaningful integration should not be underestimated, warned Bodsworth. "Rather than having integration for the sake of it, this is where we can offer advice, support and recommendations," he added. "In addition to integrations, mobile and IoT is another growth area attracting new entrants, but having the right billing capability to offer flexible tariff packages and options for pricing and bundling, as well as self-serve options, is critical to transforming the mobile and IoT space."
These trends mean that billing providers must ensure their wrap around support, advice and expertise matches up to their physical product offering, pointed out Bodsworth. "Billing has become much more of a service package than just a software requirement, and we are seeing a huge increase in how resellers value experience and expertise, which has driven a 400 per cent rise in demand for our managed services over the past three years," he stated.
But despite such a vibrant and advancing value market, there is one aspect of billing that must feature near the top of the comms sector's industry bugbear league table. The issue resides in the disparity between what is plainly required by billing providers and the current modus operandi concerning CDR formats. "One area that remains a thorn in our side is the sheer number of different formats of CDR, despite industry wide efforts to move to one standard format," said Bodsworth. "As an independent provider with customers billing products and services from well over 100 different suppliers, it can be resource draining to deal with all the flavours of CDR files and their last minute changes."
On such frustrating matters not much has changed in a decade, from the time Inform Billing began its commercial life. Back then, it was the acquisition of intellectual property rights for Eclipse and a small customer base that precipitated the launch of Inform Billing on 1st February 2010. With one contracted developer on board, Bodsworth and co-founder Darren Salisbury set about refocusing the software back onto the channel prior to a bold relaunch.
Salisbury was previously Managing Director of Pan Telecom which created a billing platform for in-house use, and was made available to a handful external customers including Bodsworth who was then Commercial and Operations Director for a telecoms dealer. After GCI acquired Pan Telecom the billing software ticked along for many years, as GCI did not see billing services as part of its strategy. This enabled Bodsworth to acquire the software and partner with Salisbury on a new venture.
Their combined knowledge of billing and the channel must rank among the most insightful. Bodsworth had previously established a mobile and fixed line consultancy business, providing contractual and commercial guidance to large corporates as well as billing analysis and validation services. Salisbury also worked as a Billing Manager prior to running Pan Telecom, overseeing billing and building the first iteration of the Eclipse software from scratch. Together, said Bodsworth, they will ensure that Inform Billing is ahead of its fast moving and expanding markets for another ten years and beyond.
"The telecoms landscape is changing at pace, and as an experienced billing specialist with flexibility within our software applications we can support new technology areas where billing systems are vital," said Bodsworth. "These include cloud and subscription services and more inclusive package style propositions, where multiple products and services are essentially bundled into a total solution and billed in that way. The bill remains simple, but our software provides the critical detail for revenue assurance and supplier invoice validation."
Just a minute with Shaun Bodsworth...
Role model:
My first manager in retail. At the age of 18 he instilled in me the importance of being honest in business
What talent do you wish you had?
To remember everything, particularly the late nights at channel events!
Tell us something about yourself we don't know:
I once had lunch with Boris Johnson
One example of something you've overcome:
The fear of failure through trial and error
Your greatest strength and what could you work on?
I am an analytical thinker with good attention to detail, so generally I'm well prepared; but I can sometimes read too much into situations
Name three ideal dinner guests:
Nelson Mandela, Alan Brazil and John Bishop
The biggest risk you have taken?
Giving up a well paid job with benefits to start my own business. I could never go back
If you weren't in comms what would you be doing?
I went to catering college so I'd be a chef
Best piece of advice you have been given:
Trust your gut. Sometimes it's all you have to go on
Name one thing you could not do without in your job:
My notepad for jotting down and remembering important details
Top tip:
Ensure your billing provider can demonstrate the market knowledge, experience and expertise sufficient for your business. Keep an eye on the margin, and don't be afraid of healthy profit