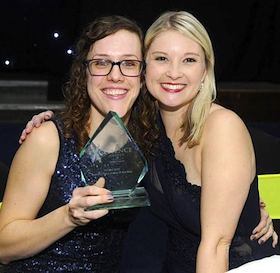 Hats off to Portsmouth-based M12 Solutions for picking up the Training Programme of the Year gong at a local Business Excellence Awards event, staged on February 21st at Portsmouth Guildhall.
M12 claims to have achieved among the best retention figures in the market, including employees that have been with the company since its inception in 2003. 
M12's Marketing Manager Ruth Seals said: "We place a lot of emphasis on training, empowering and motivating our staff. On average our employees have been with us for eight years, which is a great achievement, especially in this industry."
MD Andrew Skipsey added: "Winning an award says to our customers that we care about the professional development of our team, that we are an attractive place for people looking for a new position and that we stand out in our telecoms and Internet industry. All quite hard when there is some hot competition out there."
Pictured: Ruth Seals and Inside Sales Manager Sarah Mulley