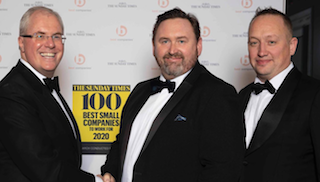 Leeds firm Lily topped the comms sector league table of destination companies for staff with a 26th position raking in The Best 100 Small Companies to Work For 2020 list - its first attempt at gaining a placement.
Lily also netted a 3-star accreditation in the Best Companies 2020 roster.
"These awards reflect big investments in creating a culture of high performance, personal growth and employee reward," said MD Chris Morrisey. "Our employees have embraced our vision with open arms and are empowered to achieve it."
In 2019 Lily launched a performance academy developed with John Stein, founder of the Winning Formula. The company now has more than 80 staff.