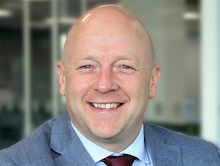 Artificial Intelligence is the technology that will most excite the industry in 2019, according to Content Guru's UK Sales Director Edward Winfield.
Leveraging AI to create the conditions for seamless human and non-human interactions that improve the customer experience must be a top priority this year, believes Winfield. "The AI landscape is constantly shifting and progressing with chatbots and machine learning playing an increasingly important role in this," he said. 
Other game changers shaking up the contact centre market are Natural Language Processing (NLP) and unstructured voice IVR, observed Winfield. "These disruptive technologies are helping to provide fluid customer experiences, especially in web chat, by creating a seamless handover between automated chatbot interactions and human contact," he added. "The key trend for 2019 will be for organisations to identify the most appropriate uses of AI, and incorporate these intelligent and continually advancing solutions into their communications estate."
In a recent project Content Guru leveraged AI and chatbot technology for a 47,000 web chat agent deployment in Japanese e-commerce. "This shows just how quickly the market is moving towards AI technology at such a large scale," added Winfield. "Everyone is developing different ways to incorporate AI into business processes and it is an area which is constantly evolving."
Content Guru's AI project, a toolset called Brain, is always under review as the company seeks new ways to utilise intelligent automation. "Another key area that requires attention is how organisations can extract value from core systems by integrating them into their communications estate," added Winfield. "Legacy systems can still be used, but in a smarter and more efficient way when integrated with new technologies."
Developments in speech analytics and sentiment analysis will also be crucial to help with Quality Assurance in the customer experience, believes Winfield. "The sector is developing at a rapid rate, and there are some key areas for improvement that are being highlighted time and again," he commented. "The addition of omnichannel capabilities to organisations' communications strategies has become vital to reflect the preferences of new customer demographics, with an emphasis on automated and self-service options for the millennial market."
Winfield pointed out that every one of Contact Guru's CCaaS customers wants a cloud solution. "The ability to scale on demand to cope with fluctuations in contact is also prevalent, with intelligent automation being harnessed to increase efficiency across the contact centre and unburden agents of repetitive tasks," he stated. "There is also much higher demand for WebRTC functionalities and NLP solutions."