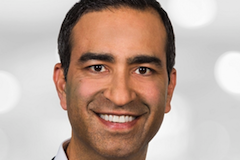 Software AG has mapped out a souped-up channel strategy as it seeks to improve the quality of its partners and generate more recurring revenue from its integration, IoT and analytics solutions. 
The company held an international press event at its German headquarters in Darmstadt this week and Comms Dealer sister publication IT Europa was there to get the measure of its channel efforts. 
CEO Sanjay Brahmawar (pictured) said the company now wanted to focus on key geographical markets when it comes to ploughing in extra resources to generate high sales growth.
The priority he said was North America, the UK, Germany, France, Japan and China. 
He noted that the firm currently has around 500 partners in its global ecosystem, but that they didn't deliver much collectively at the moment.
"Only 5-10% of our sales currently come from partners, and we want much more," he stated.
The firm has put aside 50m euros to revamp company structures, its go to market strategies and to fund potential acquisitions. 
It has bought two companies in the last year to bolster its IoT and analytics efforts, and is aiming to generate a higher slice of recurring revenue.
Brahmawar added: "There is now a focus on subscription revenue to enable our customers to get their software through opex budgets. 
"The target for most software companies now is to generate 80-90% of recurring revenue and that's what we are aiming for."
As for partners, a prime example as to where Software AG is going is its tie up with distributor Tech Data and Dell to sell an IoT edge networking solution that combines its Cumulocity IoT deployment, management and analytics software with a select range of Dell servers.
The company is aiming to get many more pieces of hardware certified to use its software and at the conference it inferred that HPE may well come on board in the IoT space too.
HPE recently announced new systems it was selling into the edge IoT space in partnership with Samsung and outsourcer Tech Mahindra. 
It's a growing market, with Lenovo also recently announcing edge data management solutions.
Brahmawar knows the company has a challenge on its hands though. It's full year results showed a slight dip in overall sales, and while the fledgling IoT business showed an increase in business it only represented 30m euros out of the company's total sales of 866m euros in 2018.