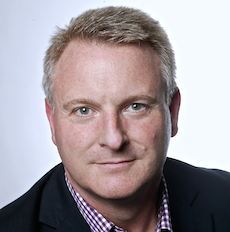 Richard Roberts' insights into human thought structures and how they relate to technology adoption and sales is a key driver in his collaboration story. Mitel's Vice President for UK, Ireland and South Africa is also acutely aware that the comms industry must put customer service front and centre of all strategic thinking to expose the full potential of the market.
To draw the richest conclusions on where the market is heading an understanding of the human mind will pay great dividends, according to Roberts, who entered the comms industry after studying psychology and linguistics at university. "I have always been fascinated by the role that psychology plays in the design, acceptance and adoption of technology, along with its role in sales," he stated. "Throughout my career my priority has been to enable customers to get the most out of their technology solutions."
Roberts joined Mitel in January this year from Purple where he led the EMEA Sales and Worldwide Channels business, focused on helping customers to monetise their venues and facilities using Wi-Fi analytics. That followed two stints at Cisco where he came to lead the UK&I channel operation along with Cisco's UK&I Commercial (mid-market and SMB) business. Roberts' 20 year career in networking and communications also includes leadership roles at Digital Equipment Company (DEC) and Symbol Technologies.
"I'm using everything I've learnt along the way to help drive forward Mitel's expanded UK, Ireland and South Africa business," commented Roberts. "My priorities are on simplifying Mitel for our partners and customers, promoting an empowered culture with a particular focus on service. Rising customer expectations and digital transformation are driving how both customers and employees want and need to interact with each other. Our customers are experiencing the challenges that come with these increased demands on a day-to-day basis and we're providing solutions for seamless communications and collaboration that can help them adapt to this environment and grow."
Now, more than ever, our customers need true partnership, borne out of a clear understanding of their business, their priorities and ambitions
Hardly a day passes without talk of the huge tech shift that's happening across all businesses, and Roberts believes that any such digital transformation project is underpinned by collaboration technology. "You can't unlock the collaborative power of employees without it," he stated. "We have the opportunity to bring true equality and diversity to business thinking by leveraging the power of communication and collaboration technology to drive inclusion."
Mitel is now one of the biggest UC and collaboration vendors in the world, powering over two billion connections every day. This fact alone, says Roberts, also positions Mitel as a safe haven for businesses at all stages of their cloud journey. "Now, more than ever, our customers need true partnership, borne out of a clear understanding of their business, their priorities and their ambitions," he stated. "Mitel supports customers wherever they may be on their cloud journey, whether they're looking for a public or private cloud solution or are continuing to work with on-site systems."
In September last year Mitel completed its acquisition of ShoreTel. The deal accelerated Mitel's growth, taking it to the number two market share position for UCaaS globally. "Mitel is now able to take customers to the cloud faster with full featured cloud-based communications and applications, while continuing to support and offer future-proof solutions to those who rely on on-site systems," said Roberts. "Our market is at a critical turning point. Digital transformation is rapidly changing business models in every industry, enabling them to seize new opportunities. We're seeing organisations move more and more applications to the cloud as they strive to increase productivity, enhance customer experience and accelerate their innovation to stay ahead."
We all need to help businesses grab their opportunity and we'll only do this by becoming more customer centric ourselves
Mitel's deal to be acquired by an investor group led by Searchlight Capital Partners in April is a clear reflection of the market as well as Mitel's growth ambitions. "This transaction is an exciting next step in our multi-year transformation that has enabled Mitel to emerge as an industry leader in the largest markets in the world," added Roberts. "As a private company, and with the strategic and capital support of the Searchlight funds, we will have greater flexibility to manage the transition in our market, accelerate our strategy and drive the next phase of success for our customers, partners and employees."
Mitel was founded in 1973 by Terry Matthews and Michael Cowpland, with the company's original product being silent cordless lawnmowers. However, when the first shipment was lost in shipping and arrived after the summer season had ended Matthews and Cowpland decided to refocus the business and produce a touch-tone receiver just as the market for touch-tone phones began to take hold. Following the success of their new product the founders set about producing further software technology and microprocessors. Mitel has since grown organically and through acquisition. Today it has more than 70 million end users worldwide, and at the end of last year the company passed the one million subscriber milestone for hosted cloud seats globally, with a presence in more than 100 countries.
"In EMEA we're seeing many companies, both enterprise and mid-market, moving to the cloud," noted Roberts. "They're looking for cloud-capable comms solutions and applications to digitally transform their businesses. Finding a seamless path to the cloud has been a real pain point for many businesses. We're helping our customers overcome these challenges by offering options based on their operating and economic models. We're not about rip and replace. Instead, we offer customers the choice with a range of private and public solutions covering multi-tenant and multi-instance to deliver seamless cloud migration."
Cloud computing breaks down borders, removes barriers, reduces costs and increases productivity. It's also the starting point for embracing new technologies and applications such as chat bots, the IoT, Artificial Intelligence and omni-channel communications, observed Roberts. Now, we have new technologies, and with them the likelihood of an exodus towards a more connected and intelligent world. Which is good news for the channel. "One of the most exciting aspects of the evolving customer landscape is the ability to bring machine-enhanced communications into the experience," said Roberts. "Like data analytics before it, machine learning technologies and AI can help to deliver a much higher level of personalisation and efficiency to customer transactions and interactions. Coupled with sensors and machine enhanced communications, businesses can now deliver a completely new kind of customer experience with their products and services."
According to research commissioned by Mitel last year businesses value machine-to-people interactions and the promise these hold for positively transforming the customer experience. And as long as resellers can win their customers' trust, and as long as they keep up to speed with technology innovations, customers will always beat on their door. "These new technologies are at the heart of future-proofing customer service and help redefine what we understand the term to mean," stated Roberts. "Giving machines a voice in machine-to-people interactions can be a powerful differentiator as the relationship between businesses and consumers shifts from transactional to more experiential, and customer experience becomes at least as important as the product or service a company provides.
"Furthermore, as the markets continue to evolve, so does the need for our business and our partners' businesses to adapt. The adoption of cloud solutions is giving rise to a whole new way of doing business – the subscription model. For channel partners who are new to the subscription model – or who perhaps haven't marketed themselves as 'cloud experts' – the shift can be daunting. That's why we're helping our partners shift their business models and processes to take advantage of opportunities afforded by cloud technologies."
The channel faces one of the biggest opportunities in its history, believes Roberts. "Organisations are still making sense of their own cloud strategies and devising their digital transformation plans," he commented. "This makes the consultative role of the channel more important than ever and offers them the chance to become trusted advisors. We live in an age where customers expect real-time service across a variety of platforms. If they don't receive this experience they will not hesitate to look elsewhere. 
"Advances in technology have given all businessess an opportunity to succeed, but it comes with challenges. We all need to help organisations grab their opportunity but we'll only do this by being more customer centric ourselves. Communication remains at the heart of all human achievement."
Just a minute with Richard Roberts...
What do you fear the most? 
Complacency 
Tell us something about yourself we don't know: 
I once ran 15 miles barefoot for charity 
If you weren't in comms what would you be doing? 
Teaching. I aspire to inspire and enthral, just as I was inspired as a child. It would be a great way to give something back
Your greatest strengths and what could you improve on? 
I have a strong moral compass. I'm driven to do what's right, but I can show too much urgency to find a fast solution rather than appreciate how important the journey to the solution can be
What is the biggest risk you have taken? 
Circumstances dictated that I had to set out on my own and leave home at 18. For me it was a big leap into the unknown but I would like to think that it has come good
Top tip for resellers: 
To succeed in the long-term you must understand who you are and know your true value. Don't compromise on this and never apologise for sticking to it 
One example of something you have overcome: 
While presenting on stage the fear of being seen to do it badly used to overwhelm me. But now, through training, different techniques and experience, I'm comfortable presenting
Best advice you have received: 
Always assume good intent. It puts you on the front foot and allows you to bring the best of yourself to any situation