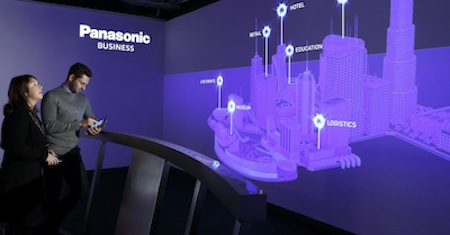 Panasonic Business's just-opened Customer Experience Centre expresses its latest technology as live and immersive experiences, for which there is a strong appetite, and which underpins the vendor's new B2B brand proposition 'Freedom through innovation'.
Located at Panasonic's new UK HQ in Bracknell the Customer Experience Centre is split into two zones: An immersive 270 degree interactive presentation space built around eight separate virtual vertical environments; and a demo area that allows customers to get hands-on with the latest Panasonic technology. 
 
The Customer Experience Centre features over 100 items of technology and the presentation space houses nine laser projectors to heighten the fully immersive experience.
It is easy to see that the centre is highly optimised to create B2B solutions both physically and virtually. 
"Our technology frees businesses to perform to their maximum," stated Simon Grantham, MD of Panasonic UK. "The new Customer Experience Centre provides a platform for us to work with customers to solve their daily business challenges."
 
The centre is categorised five ways - retail technology, rugged computing, AV solutions, communications solutions and Next generation surveillance technology. Cut to the first of these categories, retail technology, and visitors experience digital signage displays, electronic price tags and automatic stock monitoring which uses CCTV analytics to detect low and no stock on shelves. 
For the education sector a fully demonstrable lecture capture system automatically tracks a presenter, giving universities the ability to automate the recording of teaching sessions. 
Just as useful is the Android Toughbook handed to visitors when they arrive. It has an app that enables users to select content of interest from resources such as white papers, brochures and introductory videos, all enabled by integrated NFC tags throughout the centre. Material is then emailed to the user for future reference.
 
A smart security section features modern analytics software; and a range of indoor and outdoor surveillance cameras are equipped with an upgraded facial recognition platform which features a 'deep learning' core engine that is ranked as the industry's most accurate in independent testing by NIST. The Face Server can identify faces that are difficult to recognise using conventional technology, including those partially hidden by sunglasses and face masks. 
  
"We are bringing the latest technology for retail, transport, logistics and entertainment in one place," stated Grantham. "We hope to immerse visitors into our Panasonic world, inspire their creativity and ultimately prove our solutions can strengthen their business in an increasingly competitive landscape."