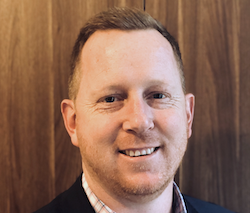 The channel will be well equipped to take the gaping UCaaS market by storm so long as resellers do not neglect the strategic advantages offered by AI, ML and 5G, argues Keith Jackson, 8x8's Director of Channel Sales EMEA.
The fast developing UCaaS market is saturated by technological innovation. Chief among the sweeping developments are AI and Machine Learning which are already changing how the UCaaS space operates, with the promise to continue improving processes and productivity. "These technologies ensure businesses have a true understanding of which channels a worker prefers and automate tasks such as setting up conference calls," said Jackson. "AI also helps manage the huge amount of data customers have access to, making sure that insights are delivered to help improve the business. Data analytics creates so many opportunities for organisations, helping them to solve problems more effectively."
Today's workers expect to operate from any location at any time which sets a high bar for IT teams to deliver against. "We will see more vendors that can deliver a location and device-agnostic, integrated suite of video, chat and voice products that empower the workforce of tomorrow," added Jackson. "We are also interested in how video conferencing will evolve over the next year. The use of video is a key tool for effective business collaboration, this is why we have recently launched 8x8 Video Meetings for our customers."
Long gone are large warehouses full of boxes, instead we have the intelligent digital delivery of new applications and associated services from the cloud
Jackson has pledged to take 8x8's partner business programme 'to the next level'. He joined from RingCentral in November 2019 and previously spent over 10 years working with vendors including Unify, Gigaset and Ingram Micro. Key to success, he says, is 8x8's approach to developing purpose built packages for the different types of users in an organisation, all on the same platform and directory for cross-organisation collaboration. The company also consolidates management, reporting, data and user policies, provisioning, recordings, transcriptions and other tools across voice, video, chat and contact centre in one administration tool for IT.
Thus the advantages of real-time system visibility through voice and video performance, usage analytics, quality management and network visibility can be realised. Small wonder open minded customers are opting for modern alternatives in communications. But the task of successfully influencing the choices made by ICT buyers, who may be in thrall to legacy kit, should not be an underestimated challenge. The art is in nurturing a journey of self-discovery among stick in the mud organisations, which would lead to a new outlook on their communications estate, as we shall see later in this article.
"Most of our growth comes from replacing legacy outdated on-premises phone systems that are inefficient and do not support new, more modern, decentralised and flexible work styles that combine multiple communication modes," noted Jackson. "We also see a fair amount of growth from customers that expand their footprint to different areas of their organisation. We start with one team or office and then move to convert the rest of the organisation over time."
Jackson's priority is to accelerate the transition from legacy communications infrastructure to a modern cloud-based service. He says the opportunity is to make IT more efficient, empower business leaders with the right data insights they need to achieve their business objectives and unify the dispersed workforce on one platform where they can collaborate in real-time, regardless of location. But despite the business case, converting customers is not as easy as you'd imagine.
The key is a designated project manager who coordinates all the different aspects of deployment
"The challenges are usually around the 'cost of doing nothing' scenario," commented Jackson. "In other words, there is a strong emphasis on thoughts around 'if it ain't broken, don't touch it', which makes for long technology refresh cycles. Partners play a huge role in helping us to address the refresh cycle and overcome the cost of doing nothing.
"Our services methodology helps to mitigate any perceived risks customers may have from changing technology and vendors at the same time, by ensuring a smooth, fast red carpet experience. The key is a designated project manager who coordinates all the different aspects of implementation and deployment, including porting numbers and training users and admins on the new system before customers are ready to give the green light and roll out the system."
Thus, the role of the reseller will move increasingly into the services driven market space. With the device, the speed, capacity and performance increasing significantly, the market opens up a rich new area for applications and services, and new recurring revenue streams not appreciated before. "No longer will the box shifting channel companies be able to compete on price and flexibility," warned Jackson. "Resellers not yet into cloud and the associated recurring revenues will have to reimagine their revenue streams. This takes time and training as the large capex expenditure purchases drop away in favour of lower, albeit new, recurring revenue streams. This can impact cash flow in the early stages if not managed correctly. However, once in place the new revenue streams can and often do outpace the contract value versus the traditional purchase model."
As well as the financials and cash flows, areas like delivery can also be developed. "Long gone are large warehouses full of boxes, instead we have the intelligent digital delivery of new applications and associated services from the cloud," added Jackson. "Adjusting the delivery will in the longer term add a positive impact to the reseller's bottom line."
Just as data and analytics is transforming the UCaaS space, the advent of 5G could also redefine the market. "Improvements to last mile network access technologies have resulted in a massive increase in UCaaS and collaboration functionality and quality, but 5G will bring access and connectivity speeds that are only common in the data centre to the mobile device in our pocket," stated Jackson.
"This will enable incredible applications that we are just now beginning to see – augmented reality, real-time access to mapping and navigational data and more. The business applications of 5G will make the increasing use and blending of data in communications applications commonplace.
"For the channel, 5G brings significant new opportunities. For example, with 5G being key to the delivery of IoT – its high connectivity speed, high capacity and significantly reduced latency means that enterprises can scale to their customer requirements in both applications and services. Furthermore, UCaaS and collaboration can now scale to increasingly larger customer bases with real-time connectivity, and provide bandwidth to accelerate the adoption of services such as video, multi-point video or rich media sharing, all happening in the moment."