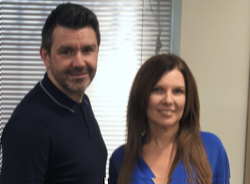 Vapour Cloud's expertise in Avaya solutions has secured it a managed service partnership with Stockport-based ICA in a deal which ICA Director Pam Blanchard says is also a meeting of minds.
"Vapour has quickly become an extension of our team because shared values are driving both of our business propositions," she said. "The addition of Vapour's technical expertise and advice now means clients can adopt the right technology at pace."
The link-up sees Vapour design and deliver ICA's Avaya cloud platforms and provide a managed service.
Pictured: Vapour CEO Tim Mercer and Pam Blanchard