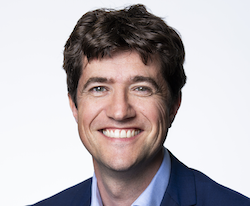 Gamma has strengthened its partnership with Three UK and launched a renewed business-only mobile service, Gamma Mobile, to provide customers access to the carrier's network and mobile technology.
Created exclusively for the UK business market Gamma Mobile will build off Three UK's ongoing £2bn network investment and leverage its 5G spectrum position.
The service will also feature Voice over LTE (VoLTE) and Native Voice over Wi-Fi (VoWiFi), to enhance voice capabilities and call quality.
Chris Wade, Chief Marketing and Product Officer at Gamma (pictured) said: "Mobile is increasingly important to Gamma's overall product portfolio. We understand that customers are demanding more of their communications providers: they're not just demanding voice, they're also demanding strong access and data capabilities."
John Dunican, Director of MVNO and Carrier Services at Three UK, added: "Last year, we invested more than £2m a day in our infrastructure so we can maximise the deployment of the UK's largest 5G spectrum holdings and enhancements to our 4G service.
"Gamma's customers will benefit from our network, our technologies and the future opportunities that 5G brings to the business market."
Gamma is offering flexible tariffs through its Mobile Tariff Optimiser which automatically calculates the most cost-effective plan according to usage.