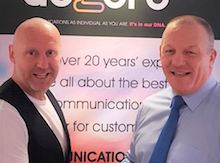 Brighouse-based Abzorb has renewed its Associate Kit Partnership as Huddersfield Giants' principal shorts partner for another three years.
'Abzorb' will be printed on the shorts of the Super League club for the fourth consecutive season, which follows a number of years sponsoring the 'Giant for a Day' event.
Abzorb MD Steve Beeby said: "Huddersfield Giants play in the upper echelons of the wonderful sport that is rugby league and we are pleased to have extended our deal with the Giants.
"We believe there is great chemistry and a sense of shared values between Abzorb and Huddersfield Giants which is why we didn't hesitate to extend this deal for three years.
"It's an exciting time in both the club's history and for Abzorb also as we continue to innovate and launch a variety of services to our wide customer base."