Jola, the channel's leading mobile data specialist, has partnered with Three Business to develop and launch a range of competitive unlimited SIMs to meet the specific needs of resellers. For more information visit: www.jola.co.uk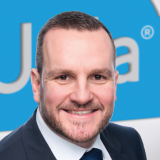 "Being on the UK's Fastest 5G Network, with 99% UK 3G/4G coverage means they will work almost anywhere ..." Lee Broxson
Jola has a strong channel reach with over 1300 partners and has a Mobile-data Revenue Generator™ programme, designed to help partners find and close mobile data opportunities. They also have advanced automation and comprehensive portals giving partners control over provisioning, support and margins. Three UK provides the UK's Fastest 5G Network (Ookla Speedtest), reach, reliability and great value pricing.
There is huge demand from businesses for unlimited SIMs for mobile phones, tablets, mobile broadband and smart devices at a great price point. Resellers have struggled to compete with Mobile Network Operators directly until now. Jola's offering meets this requirement allowing resellers to build monthly recurring revenues from unlimited SIMs at great margins.
Three UK has invested £2bn in their network and IT infrastructure over the last 5 years. They have dedicated more spectrum to their 5G service than any of the other networks and are the only network to meet the International Telecom's Union's minimum standard for delivering high-speed, low-latency 5G. Three has the largest single slice of 5G spectrum of any network provider. The contiguous spectrum is dedicated to 5G and allows an uninterrupted flow of data across the Three Network, providing higher speeds and lower latency. Three has the world's first 5G-ready fully Cloud Core Network managed from 20 new data centres across the UK and currently provides over 61% of the UK with 5G coverage.
Lee Broxson, Jola's CSO commented, "Channel partners have been asking us for competitive, unlimited SIMs for phones, tablets and mobile broadband for some time and the Three UK Unlimited SIMs meet the requirement. Being on the UK's Fastest 5G Network, with 99% UK 3G/4G coverage means they will work almost anywhere and will access 5G as soon as it is available at no extra cost. 5G offers partners lower latency, faster speeds and greater capacity, which is perfect for customers with real-time data requirements such as live streaming."
"We are incredibly excited about the Jola partnership," said Tristan Runswick Director of Commercial and Channel Trading at Three Business.
"Jola has an extensive reach and holds deep relationships across a large cross-section of Channel Partners. Their expertise in mobile and mobile data will complement our award-winning network, and market-leading 5G connectivity. Our network is already recognised for its exceptional speed and reliability, and with this partnership, we can expand our reach into partners in markets we've not previously operated within, and offer even more customers access to the Three network."
Demand
Demand for cost-effective, unlimited SIMs from the channel, has never been so high, for use in, phones, 5G/4G routers, pre-Ethernet connectivity and Ethernet back-up. Applications range from digital signage and mobile broadband to bus and train WiFi, monitoring and smart devices. Every day, resellers, manufacturers and service companies are finding new uses for mobile data and, as we accelerate towards 5G, this is unlikely to slow down.
Opportunity
The opportunity for the channel is massive. Mobile Manager® gives resellers total and instant real-time control. Provisioning, management and support are easy and SIMs can go live instantly, reducing book-to-bill times to hours rather than months. Often the challenge for resellers is identifying opportunities in their customer base and this is where Jola's unique productised process, The MRG™ comes in.
The MRG™
The MRG™ has helped Jola partners find and win many huge mobile data deals, turning some from telecoms resellers with an EV of 8 x EBITDA, to IoT companies with EVs over 20 x EBITDA. The MRG™ defines the way we work together and qualifies opportunities, capabilities and skills. We help our partners to focus on large opportunities and ultimately win large, high-margin, long-term contracts.
Jola
Our ability to innovate is one of our success stories at Jola. We continually innovate to help partners win. On average we launch a new product/product extension every month.
Jola is helping channel partners uncover prospects with immediate requirements for mobile data SIMs. We help develop unique and differentiated solutions that partners can't buy from anyone else, at competitive prices, facilitating healthy margins. We are channel-only so partners can trust us to help them pitch and close deals. We are on hand to support partners and their customers throughout the buying process and we can help create winning propositions, producing large, high-margin long-term contracts.