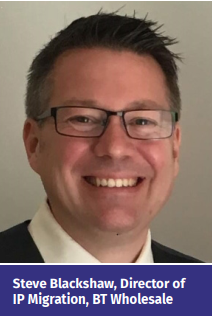 On January 14th, 1878, Alexander Graham Bell made the UK's first publicly witnessed long-distance call, witnessed by Queen Victoria on the Isle of Wight. Fast forward just under 150 years and the country stands on the cusp of another great technological event. December 2025 will mark the end of the line for the Public Switched Telephone Network (PSTN).
First announced in 2017, we've quickly been moving towards the deadline and there are now major milestones approaching, including the national stop sell of copper-based services on 5th September 2023.
All partners and their customers will find themselves at different stages of their all-IP journey. Early adopters, organisations that started customer migrations around 18 months or so ago, will already be reaping the benefits of diversified portfolios and increased customer stickiness, wallet share and revenues. Conversely, partners who are yet to act are now at real risk of customers not being fully prepped for the switch or losing them to more forward-thinking competitors.
Simply put, there's no longer time to procrastinate. If you haven't acted, you need to now.
What happens if you hold off?
We are all guilty of putting off that one task that needs to be done. Maybe it's because we know it'll be a big job, or we don't know where to start, or you don't want to rock the boat. Yet, if we apply that thinking to the all-IP migration of your customers, real business risks will soon become apparent.
You face a competitive threat to your customer base. You may have long standing legacy customers but if you aren't yet engaging them about evolving to all-IP services, a competitor likely is.
Customers need a consultative partner that can support them in their growth and educating them on the need to futureproof infrastructure is a huge part of that. Customers may also begin to ask questions of their channel partners when their legacy services begin to degrade and they feel the impact. For example, Openreach has announced that by July 2023 it will have introduced restrictions preventing outbound calls on some lines, as well as speed restrictions to FTTC connections around its two trail locations in Salisbury and Mildenhall. For customers who rely on such services, it's imperative that they are migrated to all-IP solutions.
Where do you start?
While it may be a big task, migrating to all-IP can be simplified if you consider some important steps.
Create the service roadmap – make sure you have the compelling all-IP portfolio to service customers throughout their journey and increase your diversification. Think holistically, what can you provide beyond new data lines as service layers on top?
Consider edge use cases – so many devices rely on PSTN lines to function, it's not just laptops and smart devices, but items such as lift alarms, security signalling solutions and vending machines too. Educate yourself on these less obvious use cases.
Engage your customers – speak to your customers early and often. Become consultative and audit them so they understand the breadth of migrations and the timelines – and costs – involved. Then take them on the journey with you through your portfolio.
Widen your contacts – customer migration can touch many aspects of operations so don't just focus on one stakeholder, such as the CEO. Engage with the CIO or building manager so that everyone is on the same page and buys into the project.
BT Wholesale's all-IP campaign-in-a-box
We developed Partner Plus to super-charge your business. Critical to that is listening to challenges and responding with solutions. Some partners struggle with a lack of in-house marketing resources so we've created a multi-channel toolkit that has everything needed to run an end-to-end campaign, starting with educating customers about the switch right the way through to migration.
Exclusive to Partner Plus members, the toolkit consists of battlecards, thought leadership articles, shareable visuals, social media posts and a suggested 16-week social timeline, and 8 nurture emails to help guide customers. The content is customizable, so you can add your own branding and voice, or you can use it to supplement and bolster your own existing collateral. We're here to support our partners and we've collaborated with EBC Group on its customer migrations efforts. As Faisal Iqbal, Group Technical Director, puts it "Our relationship is very much a partnership. Our account managers are there to listen to, take on board feedback, and provide excellent service."
Ultimately, the all-IP transition is reflective of the nation's evolution to a more digital enabled society. As organisations look to future-proof themselves, there is a real opportunity for you to become a long-term partner – and it all starts with helping them to migrate.
For more information on all-IP visit - btwholesale.com/all-IP