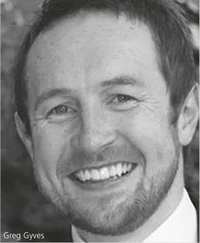 Chasing Your Promised Land
Most business owners and leaders will have a plan to maximise shareholder returns and grow the enterprise value of the organisation, setting goals over a 3 to 5-year period and the objectives required to achieve those goals. This outlines the strategic direction of the company and the clear communication of the plan enables the workforce to follow.
"We call this 'chasing your Promised Land'. For a lot of organisations, looking to capitalise on the demand for managed services, it is land rich, with addressable opportunity, recurring revenues, multi-year contracts, and strong financial (particularly margin and cash collection) performance." Says Greg Gyves, Regional Manager – MSSP at Fortinet.
The Challenge
The challenge on the road to the managed services promised land is that there are many rival organisations who tread the same path, broadening the competitive landscape and  making differentiation harder to achieve. In addition, many MSP's can over time find themselves settling into a comfort zone, stifling innovation, and leading to the MSP standing still (therefore falling behind). To stand the best chance of winning you need to identify and defeat your 'enemies' which are normally internal inhibiting factors such as technology standards, process, people & culture. Then, you need to pick some partners (Vendors) who can align with your business model and work alongside you to meet both internal & external challenges head-on.
Moving forward requires a broadening of capability and/or diversification into adjacent markets – all with finite resources. Focusing efforts to develop skills & new services in areas of higher demand (and returns) such as security, digital & cloud services can accelerate and increase the returns but needs to be balanced with maintaining delivery of core services. Then there's the need to translate the outcomes of the newly developed capability into standardised service offerings your customers will want to consume, all of which is much easier said than done.
Time for Change
Most MSP's require support in this journey from their vendor partners but unfortunately, the common feedback is that this support is usually in the form of a traditional reseller engagement model. This only serves to frustrate and alienate the MSP and slows down their ability to build new services. be wary of vendors positioning themselves or their product as the "promised land". Instead, take the time to pick partners who have a genuine interest & understanding in the path you need to take. Partners who can act as a guide, having walked a similar path with other MSP's and have a broad base of solutions and capability themselves that can help you on your way.
Service Factory
"We noticed the need to change engagement model over 5 years ago and in that time through constantly listening to the needs of our managed service partners we have moved from a product-centric, inward-looking approach to a service-centric, outcome led approach. Our 'Service Factory' methodology aims to accelerate the whole service enablement process with our partners" It is this approach that has resonated with our broad base of telecoms providers looking to augment their core business with managed security services to serve their customers whilst ensuring they grow revenue & EBITDA margin. We have also seen a clear upward trend on EBITDA multiples over recent years for organisations with solid capability in those areas of high demand, particularly security.
For further information:
https://www.fortinet.com/solutions/service-provider/communications-service-provider/mssp
Email: mssp_uki@fortinet.com or visit: www.fortinet.com