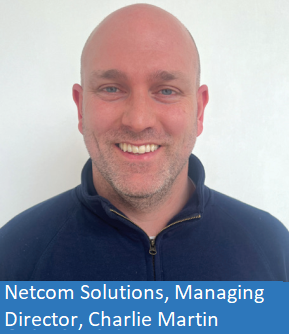 Netcom Solutions, based in Surrey, have been a reliable and trusted choice for businesses and individuals for 17 years. They signed up as a partner with Fidelity Energy back in 2018, but it wasn't until 2022, when they switched their first customer, that they realised the true value of offering energy alongside their core business.
Managing Director, Charlie Martin, said, "Energy is something that goes hand in hand with what we do as a business, so the partnership felt like a natural progression for us. We signed as a partner five years ago, but at the time, we weren't sure if it was the right thing for us. It wasn't until we had a conversation with a client who had purchased a large property and they mentioned their energy bills were almost £20,000 a month. So, I mentioned we could potentially help them manage their energy through our partnership with Fidelity Energy and all they needed to do was send a copy of their bill. That is exactly what we were able to do and that was our first contract signed, which was a great success. Since then, we mention energy at any opportunity that we get and now proactively promote it to our clients, and have subsequently secured some great deals for them.
We're dedicated to providing a bespoke service to all our clients, and we want to make technology hassle-free by taking the stress away. It's great that we can now offer business energy as one of our services, and our customers can get even more value from their partnership with us. Many of our clients now see us as a one stop shop. We had one customer who initially was looking to use us for Wi-Fi for their business, but what really sold it for them was when they realised we could handle their Wi-Fi, broadband and energy. Another client initially looked to us to handle their energy and that progressed to us also talking about installing Electric Vehicle charging points in their car park. Our clients already have enough suppliers they have to contact about all the different utilities they need managing, so they are always delighted when they realise we are able to cover multiple projects for them."
One of the core values for Netcom Solutions that set them apart is the quality of their service provision, which goes hand in hand with how Fidelity Energy treat their clients and partners. Charlie explains, "When we first onboarded with Fidelity Energy it was very easy, we were given training around the portal which is very straight-forward to use. I love the fact that we can see reports, from open opportunities to future commissions.
The whole team are so supportive, from marketing help to assistance with every deal. I met with a potential client a couple of weeks ago and mentioned all the things we can do, including energy, and they told me how they had received an exceptionally high energy bill and their supplier had messed it up. So we are now in the process of helping them to rectify that and taking over managing their energy for them. As a company we genuinely care about our clients and their challenges, so to have personalised support if needed to find the right solution for each of our clients has been amazing.
Energy is now a big feature on our website and the energy brochure is available to download. We have utilised the marketing resources on the portal as well as the bespoke mailers created for us and have rebranded everything into our company colours too, so we can push on socials and emails. We have also pledged to plant 10 trees for every successful energy deal, which is a nice touch.
Despite our initial reservations about selling energy, partnering with Fidelity Energy has resulted in a great relationship. From our Business Development Manager, Clare Stratford, coming to visit us to the in-house Account Managers and wider team supporting us in any way needed. Energy has been such a successful addition to our business, and I obviously regret not doing it sooner." Netcom Solutions Managing Director, Charlie Martin