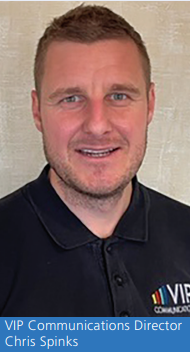 The Hull based VIP Communications Group of Companies is a leading provider of mobile communications products and services across the UK and prides itself on giving exceptional customer service and offering all its clients a bespoke billing analysis service. Over the last 27 years, VIP has built up a very strong customer base and love the longevity of business relationships which coincide with the company's brand motto, 'We're not just in a partnership, we're building relationships'.
Five years ago, the company began working alongside Fidelity Energy, so we quizzed Director Chris Spinks about how the partnership has developed since it began in 2017, and why offering customers energy procurement services has been so beneficial to VIP's business.
What was the thinking behind the Fidelity Energy partnership?
Becoming an energy partner was a complete 'no brainer' for us. The main reason we added energy to our portfolio was our client base. We have built strong business relationships and felt that the offering of energy would be a great way to make customers stickier. Ultimately they trust us, so there's no real sell in this at all.
Over the years what support has Fidelity Energy provided?
The onboarding process with Fidelity is seamless. The team is always on hand for any training or if advice is needed. We have our own internal account manager who gives us day-to-day help with everything that we need to get deals done and over the line and training is always there if we need it.
Do you get any help with your own marketing?
Absolutely. The webinar's that Fidelity organises are very helpful to keep you up to speed with the latest market news and trends and the marketing support we get from their marketing manager Iesha is also great.
Has your energy offering matured over the years?
The team at VIP has progressed since first onboarding and becoming a partner of Fidelity Energy over five years ago. When we first started selling energy, we sold it to existing customers. We have now got to the point where people outside of our bubble are enquiring or asking us to procure their energy contracts. We have a separate page on our website and the energy part of our business very much has its own identity. The future for VIP selling energy is bright, as we continue to build our relationship with Fidelity and customers alike.
Did Covid have any impact on your business?
VIP experienced huge highs as well as struggles when the pandemic hit, but it played a massive part in everybody's lives, so it was no different for us. We very much like to be out and about, doing our business face-to[1]face, attending events and being visible. The pandemic reduced the amount we could do this and like everyone else we had to do all our business in front of a computer screen. Nothing is better than buying from people and to do that you have to be with people. COVID stopped that and this was evident to see in our sales activity.
With energy in your portfolio, have you been able to cross sell?
We have achieved some great success selling energy. It has bolstered the commercials that we can offer a customer at the time of mobile renewal. As an example, we secured the electricity of a big manufacturing company and won their mobile renewal because we were able to offer a larger kit fund through the commercials earned on the Energy contracts!
Has the Fidelity Energy partnership benefited VIP financially?
It certainly has! Since adding energy to our portfolio, we have seen some real financial gain. The different payment terms from the suppliers really helps with our business model. We love working with Fidelity Energy and hope our partnership will continue to develop and bring us even better financial gains in the future.