West Sussex based Global 4 Communications is one of the UK's leading suppliers of telecommunications solutions, but in 2019 added Energy to its portfolio by partnering with Fidelity Energy, resulting in a stream of new revenues.
The alliance was forged after a meeting with Fidelity Energy Sales Director Sean Dixon as Carl Barnett, Group Managing Director at Global4, explained.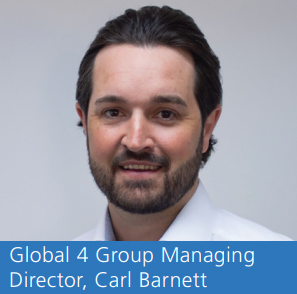 "Sean focused on the simplicity of the Fidelity Energy portal, which means a customer quote can be produced right away by just getting a copy of their bill. It was so simple and sleek. And it was something I could get the sales team to do without being too onerous on them. Since onboarding energy, it has just worked seamlessly.
"One of my biggest concerns when we first launched energy was that we didn't have any knowledge of the fast-changing market, especially over the last couple of years. But members of the Fidelity Energy team have always been there to support us, and they have been instrumental in getting some big deals over the line. They also help us to think outside of the box for some of the trickier customers."
Recently, Fidelity Energy Sales Director Sean Dixon has met some of Global 4's customers and provided solutions for them that are tailored to their specific business needs.
"Because of the strength and knowledge Sean and the team offer we have hooked customers I never thought we land, including Local Authorities which is a great fillip for us," said Carl.
Global 4 Sales Director, James Routledge handles the relationship with Fidelity Energy on a day-to-day basis and outlined how the quality of the partnership is helping the energy business develop and thrive.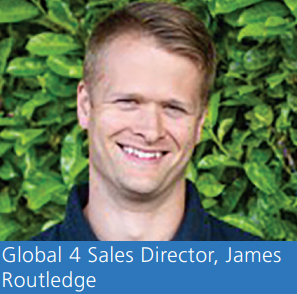 "The relationship with Fidelity Energy is really strong and we have a number of contacts within the business who support us depending on the priority level of an enquiry. We have our Internal Account Manager, Kingsley Pannell, who is attentive and responsive. He provides strategic pricing structures and offers ways that we can go out and win business we are quoting for. Business Development Manager Joe Sudlow is also very reliable and knowledgeable and between them we have a strong core team at Fidelity we are in touch with daily.
"Energy is such a great revenue stream for the business and a solution we have used to strengthen our customer relationships," continued Routledge.
"With Fidelity Energy's help we have won some big customers recently and we've also re[1]contracted some existing customers, saving £5 million for one and £3 million a year for another. In the current climate these are huge savings that we are making for these customers who are now much more loyal to us because of our combined effort.
"During the energy crisis the profile of opportunities has changed, but we are still closing more business than we ever have before. Ultimately, we are making good margins out of energy whilst benefiting our customers and helping them navigate their options in a volatile energy market."
Routledge stressed that Fidelity Energy are always available to provide insight on any opportunities Global 4 can monetise.
"By far and away this year, the energy revenue that has come into the business has far outweighed our expectations. We are now in a position where we can employ three additional members of staff who deal with energy all day, every day.
"It is a common cross-sell discussion with our existing customers, as it's a simple matter of looking at the energy bill from when they signed up as a proof of the impact moving to our service has had," he concluded.
To find out more about how simple it is to add energy to your product portfolio Fidelity Energy are holding two upcoming webinars on..
21st March, 3pm
https://us06web.zoom.us/webinar/register/8916765431323/WN_FeHzkOR-S_qFrx9S1mS7Pw
23rd of March, 10am
https://us06web.zoom.us/webinar/register/9016765436593/WN_49wD8QeIRLmbzsp8fCMotw