The WLR withdrawal is driving a cliff edge across the industry, calling for businesses to move their voice services to SoGEA or to FTTP immediately. However, TalkTalk Wholesale Services has spoken out, announcing another, much simpler route to take on the journey to full fibre.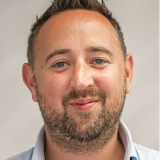 Here, Product Strategy Director, Neil Wilson, reinforces this message and explains the business implications of moving to SoGEA, compared with switching to their unique MPF solution to host voice services and bridge the gap between PSTN and FTTP.
Neil, what is TalkTalk's message around the PSTN switch-off?
While consensus in the industry is for businesses to move services away from PSTN or WLR lines, to full fibre or all IP services, and align with the WLR switch off taking place in December 2025, our message is that there are other options available to alleviate the pressure of these timelines that can actually provide more benefits to businesses.
Two years is a short window to transition services to a new product, particularly considering the infrastructure shift required to do so. Not to mention the cost implications of switching your technology. However, SoGEA forces businesses to migrate to an all-IP voice world imminently,whether they're ready to or not. Then, when FTTP becomes available later, they will be required to make another complex and costly infrastructure change if they haven't done so already.
While all businesses will need to move to an allIP world eventually, the move to SoGEA forces that conversation onto customers that aren't always ready for it, or the cost implications it brings.
The process is also not as simple as switching existing lines like WLR, ADSL2+/ SMPF and WLR FTTC to SoGEA and getting the same bandwidth, at the same cost. While businesses can move to a bandwidth-equivalent product, those currently using services such as voice, alarms and EPOS on FTTC lines will need to audit the equipment and determine whether it's suitable to move to an IP voice platform. This isn't always straightforward because the equipment isn't always owned by the reseller. Where it isn't, the reseller will need to ask each end customer and, if equipment isn't suitable, that customer will have to find more budget to upgrade their services. Unfortunately, many businesses running on these existing lines are often doing so with legacy infrastructure that will need replacing at a cost. What's more, in the cases of WLR and SMPF, even where equipment is suitable, there will still be a cost to switch – a tough prospect for businesses in the current economic climate.
Therefore, our message to customers is that switching to MPF technology to continue to use analogue services is another extremely viable option, that avoids the WLR switch-off and provides more flexibility as we wait for FTTP availability to increase.
MPF is copper based but has a much longer shelf life and, given the rollout plans for FTTP, can act as an effective middleman for businesses waiting for full fibre, as a cost-effective alternative to SoGEA.
So what we're saying isn't all that different to the market. We know the future trajectory is full fibre. But there is another route to take as you leave WLR & PSTN that is much less disruptive and much less restrictive.
Alleviating the constraints of SoGEA
SoGEA does provide the opportunity for resellers who sell voice products to open up a voice conversation with their customers. But they're doing so with a hard deadline and a customer might just not be ready to move.
What's more, do resellers have the capacity to audit all of their customers, and take them all on a journey to SoGEA? And, what's the customer service impact of doing this for their entire base all at once?
Put simply, the move to SoGEA is often not seamless. There is a lot of work and effort involved to understand the wider technology landscape and with this comes risk to the service provided by resellers. MPF doesn't require that effort. It maintains the status quo for a partner and an end customer with a more strategic, less time pressured conversation about where they want to go and the technology they want to use.
Partners will still have to make the switch to FTTP at some point. That's non-negotiable. However, by switching to our MPF services, we can help partners make the change directly to FTTP when it's available.
How TalkTalk is supporting businesses on their FTTP journey
When our customers are ready to migrate to FTTP, we want to support them by giving them the broadest choice we can. We'll do this through teaming up with a range of suppliers and letting partners reap the benefits of choice through us. Rather than having to stitch together altnets within their own portfolios to get the coverage they want.
The aim of our full fibre strategy is to align with the right altnets to be able to provide the best coverage to our partners and facilitate that full fibre migration in future.
Relax, the PSTN pressure's off
TalkTalk have 15 years' experience delivering MPF. With us you can provide an effective alternative to rushing customers into complex and costly post-PSTN migrations.