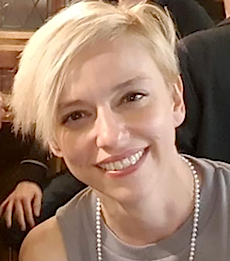 Smart cities may soon become firmly part of the comms channel's growth outlook, according to Entanet Head of Products Paul Heritage-Redpath and CityFibre Product Manager Victoria Papathanasiou (pictured).
At the heart of any smart city is technology, creating an environment that encourages digital innovation and economic growth more than any other. But just five per cent of the UK can access full fibre connectivity right now, so major investment is needed if more UK cities are to become intrinsically smart. "With an ambitious investment programme CityFibre is building an intelligent full fibre network, providing gigabit connectivity to five million premises by 2025," said Papathanasiou. "That should help more cities and towns to press ahead with their smart city pilots and projects."
Smart cities are only made possible with a strong collaborative approach between the public and private sector. A good example of this is MK:Smart which saw the local authority and Open University working closely with infrastructure providers like CityFibre to deliver smart solutions for Milton Keynes. In 2016 CityFibre opened up its 162km full fibre network in Milton Keynes for businesses to access next generation Internet connectivity. Earlier this year the city was also announced as the first UK city to benefit from CityFibre's city-wide full fibre roll-out in partnership with Vodafone. This means the CityFibre network, which enables Gigabit speed broadband services of up to 1000mbps, will be expanded to reach nearly every home and business in Milton Keynes.
Smart city projects are inherently bespoke, where everyone involved is to some extent sharing risk. "Small scale pilots run in an agile way with clear success factors are crucial to de-risking and lay the ground for longer-term revenue streams," commented Heritage-Redpath. "Public-private partnerships are key and there needs to be investment at multiple levels in smart solutions, analytics and machine learning technology, the systems to process data and of course the underlying infrastructure." 
As councils seek to balance budgets by lowering operational costs, even mundane sounding projects like bin and vermin sensors can help manage headcount and truck rolls by directing resource only to the locations where it is needed. A largely unnoticeable but potentially life-saving application is the use of flood sensors to manage drains and waterways. "Cash strapped councils are open to cost-saving initiatives and, in what is an emerging market, vendors are keen to support channel partners with projects," added Papathanasiou.
According to Heritage-Redpath the channel has always punched above its weight by leveraging personal relationships. "There's no reason why that model won't work in the context of local government," he said. "Indeed, working with a local partner is a marketable benefit for local authorities. There are opportunities now for the channel but investment is being held back by the lack of appropriate infrastructure. CityFibre aims to change that."
The readiness of the smart city market for the channel will increase as the level of full fibre infrastructure in towns and cities grows. CityFibre currently has major fibre infrastructure projects in over 50 towns and cities throughout the UK with a plan to provide gigabit connectivity to five million premises by 2025. "This investment is making faster connectivity available to more businesses and organisations, stimulating business growth and innovation, which in turn creates significant opportunities for the channel," noted Papathanasiou. "It's also a question of channel providers bringing an opportunity to leverage technology to make savings for their local authority."
Although there are signs of barrier-busting initiatives beginning in government, planning and wayleave issues remain the main barrier to deploying suitable infrastructure, pointed out Heritage-Redpath. "At least local authorities can assist with this on their own estate," he added. "Security on data transmission and storage and the GDPR implications on the use of citizens' data are also key considerations."
The single biggest barrier to smart cities in the UK is the lack of full fibre infrastructure needed to transfer the huge amount of data required for them to work. "Rock solid connectivity is the bedrock of a smart city strategy," reaffirmed Papathanasiou. "CityFibre, with its full fibre deployment not tied to the legacy exchange footprint, is placed to help. We're already working with a partner to roll out a LoRa (long range) pilot right now."
Any smart city project will have multiple layers and multiple opportunities, and the degree to which a partner gets involved will depend on their capabilities. "The channel will play a crucial role in the delivery of high-speed full fibre connectivity," stated Heritage-Redpath. "We encourage resellers to find out about the smart city ambitions of their local city or town council and ask them questions such as 'what's holding you back?'. The answer will no doubt be the lack of a full fibre infrastructure, and that is where CityFibre can make a difference, providing a foundation for smart city infrastructure."