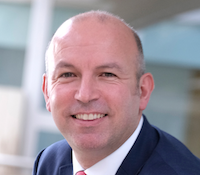 BT Security chief Mark Hughes is stepping down and departing the business at the end of the year making way for incoming MD Kevin Brown (pictured) who joined BT in 2012 following a 20-year career in law enforcement.
Brown has specialised in security throughout his time at BT and in previous roles has led its global investigation and intelligence teams and driven the modernisation of BT's protection systems. 
In his previous role, Brown led BT Security's engagement with international governments and managed its relationships with international law enforcement agencies such as Interpol and Europol.
BT has circa 3,000 cyber security experts across 180 countries. Its global network of Security Operations Centres protects against 125,000 cyber attacks every month.
Brown said: "Our global network gives us a ringside view of the latest threats so we can anticipate and mitigate emerging attacks before they impact our business or our customers."
BT's Security business is one of the company's fastest growing areas, driven by the industrialisation of cyber-crime and the need for organisations and individuals to take proactive measures to protect their digital assets. 
BT is also claims to be the UK's biggest private cyber security employer and plans to increase its headcount by 25% the next five years.