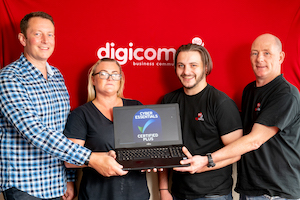 Bolton-based ICT provider Digicomm 360 has invested in and secured Cyber Essentials Plus certification, earning Trusted Partner status.
The move follows a spike in enquiries from businesses as home working has increased vulnerabilities to cyber attacks and security breaches.
According to Digicomm 360 MD Mark Pollitt cyber security risks have risen by 50% during lockdown.
"The Covid-19 pandemic sparked a huge IT and telecoms challenge when businesses were first instructed to close their offices back in March, ensuring that employees could carry on working from home," he said.
"Businesses were caught out during the last lockdown and they are keen to ensure that it doesn't happen again.
"We work as an extension of our clients' businesses, and it's our role to not only ensure that that can operate effectively during these difficult times, but that they continue to grow and thrive."