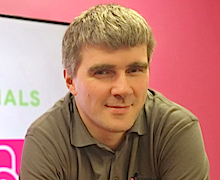 Scottish IT firm Converged Communication Solutions has gained Certification Body status under the Cyber Essentials programme, which is operated by the National Cyber Security Centre (part of GCHQ).
The badge shows that certified organisations can be effective in guarding against the most common cyber threats, which will be a boon to Converged Communication Solutions' clients which are largely concentrated in Aberdeenshire, Moray, the Highlands & Islands and Tayside.
MD Neil Christie said: "Ensuring an organisation has good cybersecurity is more important than ever, particularly as cyber threats continue to evolve and become more sophisticated.  
"Everybody can be impacted by cybersecurity breaches and there are steps we can all take as individuals and as a community to protect ourselves.
 
"Cyber Essentials certification can ensure organisations are prepared and have limited the potential impacts by identifying weak points in systems, effectively protecting the confidentiality and integrity of the data they hold."