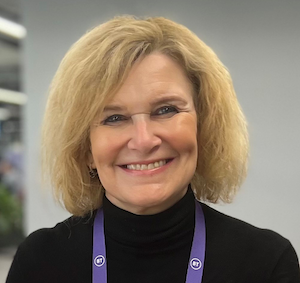 A distinguished marketing executive whose professional prowess and management approach transformed BT Wholesale's channel presence and the careers of those who worked with her.
As the architect of a transformation in BT Wholesale's marketing strategy, which reached a zenith during Comms Vision 2021 in catalysing an unprecedented response from conferees, Karen sealed her reputation not only as a stand out marketer but also as a popular figure in the channel community.
She joined BT Wholesale in 2018 as Head of Marketing and wasted no time in elevating its channel presence. She was characteristically gritty, humorous and sublimely practical at the same time, a combination of attributes that ensured she got things done and delivered results. Karen was also respected for the support and care she gave to her team and her willingness to try new things.
Her adventurous spirit was evident far earlier in life when she became the first member of her family to go to university. This was a big move for Karen who was born and bred in a close-knit Wakefield community. A long and successful career in marketing followed, based in London and the south east. Firstly at Securicor where she would always tell you she worked with Nick Hewer of The Apprentice fame. 'He was just a PR man', she'd laugh over a glass of wine.
Karen then took on a number of senior marketing roles in the real estate industry for nearly two decades before joining 123reg as Head of Marketing and New Media. This move introduced Karen to the telecoms space and she went on to hold senior positions at Exponential-e and UKCloud, making a big impact on both brands.
Role model
But the company that made the biggest impact on Karen was BT Wholesale where she relished the opportunity to appoint a team of young marketers, mentor them and become a role model best known for thinking creatively, challenging the status quo, striving to achieve bigger and better results, being blunt with her feedback to mentorees and being incredibly proud of them as they advanced their careers. Those who worked with Karen know they would not be where they are on their career path were it not for her unique management style.
When Karen joined BT Wholesale she led an impressive transformation of the company's relationship with partners and the sector, navigating unique challenges given the nature of the business to achieve a significant uptick in channel engagement, increasing first choice consideration and brand loyalty, while generating positive words from customers, industry influencers and internal stakeholders. She also ensured that parts of the business were shortlisted for, and won, industry awards, something that had not happened prior to her tenure.
Karen was also known for encouraging and driving new ideas. This was most noticeable in BT Wholesale's Hope United campaign which helped to bring diversity and inclusion to the forefront of the channel's thinking. She also brought in external agencies to further develop creative thinking that would challenge the status quo.
Karen's achievements were realised not just through hard work and brilliance, but because of her huge and welcoming heart, wickedly glorious laugh and by not taking herself too seriously.
Karen is survived by her husband Stuart, her daughter Helena and stepson Joe.
Karen Heaven: 25th August 1964 – 29th July 2022.