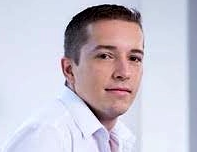 With its strategic roadmap and rebrand now cemented, Glide Business has the backing to expand its partner base as a national supplier of alternative connectivity services.
As pure fibre infrastructure providers extend their tentacles across the land, the channel opportunities get more interesting, and the impressive growth figures generated by full fibre pioneers demand our attention. During the past 12 months Glide Business witnessed a £2.5 million rise in revenues from £4 million to £6.5 million. It registered a doubling of the customer base and an uplift in staff numbers from 20 to 50. The coming year is more ambitious with plans to double the current turnover, introduce more heads and rev up the partner model as a primary engine of growth. 
"Our biggest opportunity is the channel and working with a core set of partners to leverage the fibre footprint we are building," stated James Warner (pictured), Director of Sales, Marketing and Product. "Our infrastructure focus is superfast and ultrafast broadband built for business. We lay our own physical fibre and cabinet infrastructure enabling us to provide a service previously unavailable to the business, science and industrial parks we serve."
The benefits of pure fibre and the rising status of alternative providers is reflected in unprecedented levels of investment. "The industry is going through a period of significant change with the rise of alternative network providers delivering fibre provisions across the UK," added Warner. "This reduces reliance on the likes of Openreach and enables innovative players to talk about something genuinely different and exciting for their customers."
Glide Business began life as WarwickNet in 2008. It was established by current CTO Ben King who decided to do something positive about the poor quality broadband that under-served the business park where he then worked. Ten years later the company has over 50,000 businesses on its footprint and a national fibre network that extends the length of the country. To date Glide Business has deployed over 1,400Km of its own fibre network with 400-plus parks enabled and over 50,000 premises passed. The company recently surpassed expectations of the DCMS gigabit voucher scheme by confirming 67 per cent of vouchers in the pilot region of Coventry and Warwickshire, worth up to £3,000 each for local businesses. 
Turning points in its history include SLU (Sub-Loop-Unbundling) and working with Ofcom to drive this capability through the industry, enabling the delivery of superfast and ultrafast services to businesses. Its acquisition by CableCom Networking (now Glide) in January 2017 provided a platform to significantly scale the business from a local niche player to a national infrastructure provider and challenger in the SMB market, aiming for a 50:50 split between direct and channel sales models over the next three years. 
"The acquisition gave us the ability to invest heavily in our fibre and cabinet footprint across the country," said Warner. "Making best use of this investment means working with channel partners to capture as much of the market as possible and helping them to differentiate against the normal connectivity options."
Parent company CableCom Networking Group underwent its name change to Glide last month, and reaffirmed its focus on providing infrastructure, connectivity, utilities and technology services to three areas of the growing PropTech market, operating three divisions – Glide Residential, Glide Student and Glide Business. In the last year Glide reported growth of over 25 per cent, propelling the business beyond the £50 million revenue milestone, which has allowed continued investment into its own fibre infrastructure. The company expects this growth to increase by 30 per cent year-on-year and has made provisions to deploy an additional 500km of full fibre over the next 12-18 months. 
Glide anticipates a steep and ascending growth curve, but Warner's career path prior to entering the comms industry was all downhill. He'd built a successful Bulgarian hotel and ski instructing business, and after two years returned to the UK with his wife and sought a short-term sales role. "I fell into a job locally selling broadband for a south west-based ISP," he explained. "I immediately liked the industry and the people in it, and saw how important it is to stay nimble and focused on what actually matters while maintaining a local feel without getting caught up in a 'we run a business for running a business's sake' scenario. That's what makes Glide exciting for me. We don't just talk about poor connectivity provisions, we are being truly entrepreneurial and disruptive to our industry."