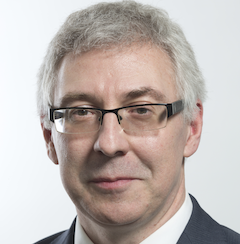 Full fibre coverage across the UK by 2033 will entail years of investment and collaboration if barriers to progress are to be overcome, says  CityFibre's Director of Strategy Mark Collins.
The Government's Future Telecoms Infrastructure Review (FTIR) published on July 23rd was hailed by DCMS Secretary of State Jeremy Wright as a 'radical new blueprint for the future of telecommunications in this country' that will deliver full fibre broadband coverage across all of the UK by 2033. The FTIR, which is part of the Government's modern Industrial Strategy, calls for a single infrastructure vision, clear goals and shared responsibilities between the Government, Ofcom and comms industry to drive large-scale investment in the fixed and wireless networks deemed vital for the UK to remain globally competitive in a digital world. 
According to Government figures the UK currently has only four per cent full fibre connections, lagging countries like Spain (71 per cent), Portugal (89 per cent) and France (28 per cent). "The UK must urgently move away from copper and revolutionise its digital infrastructure," stated Collins. "Meeting the FTIR target is critical to driving economic growth and productivity in the national and local economies. The target is tough though, requiring a leap from four per cent to 100 per cent coverage in just 15 years." 
The FTIR aims to drive competition and commercial investment in full fibre networks but for this to happen three key barriers must be addressed, believes Collins. "We must create the right regulatory climate for investment, ensure consumers can switch between infrastructure providers and change the rules on the misleading use of the word 'fibre' in advertising," he said. 
"The main switchover barrier is advertising rules which allow copper broadband to masquerade as fibre, thereby preventing consumers from making the informed choice that Government says is critical to drive take-up. The Advertising Standards Authority must take action for the aspirations set out in the FTIR to become a reality."
Greater transparency across the industry will also be required, which the Government has acknowledged as an accelerator of commercial network roll out. Meanwhile, the proposed new European Electronic Communications Code allows for the mapping and forecasting of build plans. "We believe that this would provide clarity on who is building full fibre where and to what timescale, helping to maximise coverage, prevent unnecessary network duplication and minimise disruption to communities," stated Collins. 
"We also need to ensure that investment in new infrastructure is maximised to increase coverage. CityFibre has long argued that end-to-end infrastructure competition – the encouragement of multiple full fibre networks being built down the same streets to compete with each other – is both undesirable, in the context of nationwide rollout, and unnecessary.
"Undesirable because network duplication (or overbuild) significantly weakens all players' full fibre business case; and unnecessary because with open access wholesale networks consumers can access the full range of ISPs on a single network, without having their streets dug up multiple times to lay multiple networks. We want to see a model that discourages overbuild and instead encourages a single underlying full fibre network to be built in each location as a neutral platform on which multiple ISPs can deliver choice to customers."
Removing barriers that prevent consumers switching smoothly from copper to full fibre is also key to creating the right environment for investment and realising the consumer and economic benefits of new networks. "The Government and Ofcom should act sooner rather than later to stop this becoming a significant problem," urged Collins. "Although the copper network is owned by Openreach, how consumers move from copper to full fibre is critical. The Government suggested it will establish a mechanism with Ofcom and industry to ensure a managed switchover. This should be done promptly and the principles fleshed out into a comprehensive strategy. Governance of this mechanism must ensure that the views of alternative players are given equal weight to those of Openreach. 
"To meet the Government's target, competition between Openreach and new market entrants must be meaningful and sustained. This means creating a level playing field, something the Government and Ofcom have already acknowledged doesn't currently exist. They need to take up-front action to prevent Openreach acting anti-competitively and slowing down the rollout of full fibre. Otherwise we could see whole swathes of the country left behind on copper and unable to join the UK's digital progression."