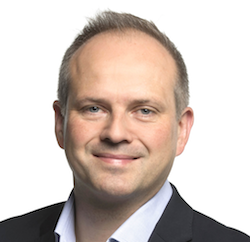 Sky's disruptive Ethernet campaign combines the UK's largest exchange network to offer 1GB services with growth ambitions on the same scale.
That's according to Business Communications Strategy and Commercial Director Mike Greening who said limitless demand for bandwidth has become the default mode of the market and connectivity providers must respond in equal measure: Cue the bold and confident channel campaign embarked on by Sky Business Communications. "If anyone was in any doubt about our intentions in this space they should now be crystal clear," stated Greening. "Sky is staking its claim and truly open for business in the wholesale connectivity market. Our objective is also unambiguous: As the only nationwide alternative to the current incumbents we plan to shake up the status quo."
With a claim to the UK's largest exchange network to offer 1GB services and a strong foundation in the channel Sky Business has arrived at a step-change in its strategic intentions, according to Greening. "Our stronger focus on the channel is a natural evolution," he said. "We have developed the product, put in place service and support mechanisms and refined them with our initial set of partners. Early adopters are on board so  now it's time to launch the proposition to the wider channel and articulate what we represent and how Sky Ethernet is different."
Sky's first channel project, the SNS Wholesale operation established in 2016 with partner FluidOne (then Fluidata), is now commercially led by Sky Business. "Our relationship with FluidOne enabled Sky to understand the wholesale connectivity market, develop the proposition and most importantly build the foundations needed to scale our communications business," said Greening. "The collaboration remains an important cornerstone for both organisations. We also have a relationship with SSE which has delivered great traction in the market."
At the time of writing this article eight partners had signed up to Sky Ethernet with a strong pipeline of new partners poised to join Sky Business Communications' rolling campaign convoy. "We want at least 20 live partners by the end of our financial year in June 2019," stated Greening. "We are open to varying profiles from aggregators, resellers and specialist connectivity providers, to cloud providers, SIs and of course international carriers – organisations that consume Ethernet in the UK on a layer 2 basis and want a better experience. We also want to get to scale so are working with businesses that can help deliver that for us. For example, we've been collaborating with Openreach for many years and it's a relationship we value."
The digital revolution is also potent with value and organisations simply cannot resist its upsides, putting connectivity front and centre of all business planning. So, says Greening, it's time to focus on the network facts that he says makes Sky different. The company has built a 7,500km fibre network with over 2,800 exchanges covering 96 per cent of UK business postcodes. Over 70 per cent of exchanges are 10GB enabled with 99.95 per cent network availability.
According to Greening the market requires that established national network operators like Sky should be seen as distinct entities separated from emerging network builders that lack scale. "There are more operators emerging, and major unbundling under way, but few have the appetite or budget for national expansion," added Greening. "We have already made this investment and will now leverage our reach and capacity."
The Ethernet market has become inundated by pressure from organisations demanding ever more bandwidth, but for providers 'trapped in time' their lack of agility may also hinder their scope to deliver what's required of them, according to Greening. "We are coming to market with a fresh approach, without legacy and with a partner-centric mindset," he stated. "The market has told us what they need – we aim to fill this space."
A running theme in Greening's message to the channel is Sky Business's lack of legacy, which he says offers a more optimistic and appealing future for all partners. "We are unencumbered by legacy issues and forward thinking," he stated. "With no legacy base or minimum guarantees to protect we also welcome discussions with players that have ambitions to build out their own on-net footprints. A prime example is SSE where we have provided both backhaul and last mile services enabling its 200-plus service provider customers to benefit from Sky's nationwide network."
Sky Business's success in large part rests on its onboarding and partner engagement processes which Greening said have been fully honed and tested. "Over the past two years we have developed these areas," he explained. "Our portal is predominantly for service and support management at this stage but is well regarded by our partners and an area we continue to refine and invest in. Furthermore, the reach and capacity of our network makes it easy for us to implement quotation and ordering. With our API soon to be deployed we see a high percentage of all postcode requests as being EAD LA circuits for Sky."
Despite the overall improving state of Ethernet provision in the UK what exercises Greening is that 'progress deniers' – such as inconsistencies due to a dependence on carrier and location – risk being worsened by a lack of human interaction in the supply chain, which he says progress depends on. "We are committed to delivering a comprehensive set of APIs and see automation as the way forward, but we also recognise that some carriers are too reliant on automation so when things go awry they do not have enough direct human engagement to quickly resolve issues," he added. "Our partners have access to real people to answer their questions." 
Greening also noted that the case for potential brand new connectivity business may be exaggerated as markets closer to home could offer lower hanging fruit. "The channel is often too focused on chasing new circuits when the existing market base is significant," he said. "Now is a great time to consider those migration conversations that are always put on the 'too hard' pile. Prices have declined significantly and not all carriers are passing on the cost reductions of either the market price changes or zero install charges that were amortised over the (usually) three year term.
"We also see a step change from the less business critical sites which were on ADSL moving up to lower end Ethernet circuits. Again, we are positioned here as we can offer a ubiquitous Ethernet service across the UK that doesn't rely on multiple carriers and mixed SLAs."
While Sky Business's Ethernet capacity is cutting-edge, the nature of its channel programme also brings some 'Sky magic', claimed Greening, rewarding partners and their staff while delivering something 'new and interesting' to the sector. "Our reward programme is exciting," enthused Greening. "It includes access to our range of Sky products and content, partner incentives and a marketing development fund for each partner for bespoke and joint marketing campaigns, partner-specific promotions, bespoke pricing for larger or strategic opportunities, dedicated sales tool kits and proactive lead sharing."
Greening is one of the channel's most passionate advocates and his career background speaks volumes about his ability to give partners what they need as well as realise his ambitions for Sky Business Communications. Most of his 18 years in the telecoms industry has been spent in the B2B and wholesale space working internationally with operators such as BT, Optus, Telefonica, Telstra and Vodafone. Greening also held Partner roles at TMT consultancy firms Cartesian and Analysys Mason. Who better to catalyse Sky Business Communications' bid for channel expansion?
"Our priority right now is to execute our initial plans efficiently," he stated. "We have clear objectives for the next three to four years in terms of growing our Business Communications unit and are confident we'll deliver on them. We know our competitors are spending significant amounts of time working out what those might be. We'll let them keep guessing for now."