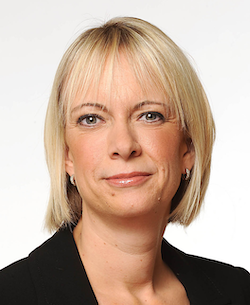 Sky has made a science-based commitment to achieve net zero by 2030 and the strategic decisions taken on ESG are driven by Group Director Bigger Picture and Sustainability Fiona Ball. Here, she shares insights into her day-to-day activities.
Through her work with Sky colleagues, external suppliers and a full range of purposeful organisations, Ball is accelerating action on Sky's all-encompassing transition to net zero. She has worked within Sky's sustainability team for the past 15 years, and prior to joining Sky accrued 15 years experience across the telecommunications, media and entertainment industry. The environment also featured strongly in her academic career. "I've always worked in or been connected to sustainability, long before it existed as a field in the way it does today," stated Ball.
"Sustainability is about the environmental and social impact of everything we do. We're working hard to engage and transform our business including our products and wider supply chains – and all this must be done in a way that supports a just transition to a net zero future."
In 2006 Sky became the first media company to go carbon neutral, and in 2020 the business launched Sky Zero, its commitment to becoming net zero across its operations and value chain by 2030. "To reach our science-based target of halving our emissions in absolute terms by 2030 there are a number of barriers we have to overcome and workstreams we need to deliver on," explained Ball.
"We know making improvements across our value chain, including Scope 3 emissions, is the most material and impactful part of our existence as a business. However, we also know that making the substantial change required to deliver on our net zero target across our value chain is no mean feat.
"We need to collaborate with other businesses in the UK and internationally from a range of sectors and this must be done at speed, working together towards a common goal. The transition to a net zero economy is going to require partnerships and business relationships on a scale and ambition level unlike anything we've seen before, and will require flexibility to think and deliver work that falls outside existing business parameters. Collaboration will be crucial. Therefore, within organisations it's critical that we break out of our traditional business unit silos, share expertise and work towards a shared goal."
The transition to a net zero economy is going to require partnerships and business relationships on a scale and ambition level unlike anything we've seen before
Sky has reduced direct carbon emissions by 36.4 per cent since 2018 and continues to power its sites with 100 per cent renewable electricity. In 2022 the company launched Sky Stream, its most energy efficient product with an auto-standby mode of less than 0.5 watts, saving emissions and customer electricity costs. "Like all our other products, the packaging for Sky Stream is also 100 per cent recyclable, Forest Stewardship Council (FSC) certified and free from single-use plastics," said Ball. "And Sky Business's broadband offering is powered by our greenest ever Wifi hub which is covered in 85 per cent recycled plastics and doesn't use single use plastics in its packaging."
Sky is also ensuring the robust training and upskilling of employees to build human rights into every decision made throughout its value chain. "Concurrently, we're looking at our approach to nature and biodiversity which complements our reduction strategy," explained Ball. "We have to ensure we are investing in nature in the best way to absorb the emissions that we can't currently cut."
Within organisations, it's critical that we break out of our business unit silos, share expertise and work towards a shared goal
Sky's charity partners WWF and Royal Botanic Gardens (Kew) help to develop an effective nature strategy, advising on how to invest in nature to support net zero targets. Ball also works with several business membership organisations that specifically address climate change issues. "We're looking at the biggest challenges facing business and coming together to overcome obstacles," she added. "These organisations play a vital role in galvanising businesses and helping them move forward at pace."
 
Taking the lead
Ball is a member of Business in the Community's Environment Leadership Team and Net Zero Taskforce, the UK Corporate Leaders Group and the Aldersgate Group, which covers many issues including policy change and climate leadership. "When engaging individuals on climate-related topics we need to be aware that these may not be everyone's priority or interest," said Ball. "So it's important to engage people in connection to their passions. By showing them the impact climate change will have on the things they care most about, from sports to food, we hope it will inspire them to take action. We have applied this theory to our Sky Zero consumer website. It has been designed in a way that people can see ways to help the planet while still doing the things they love."
To create greater net zero momentum Ball says we must consider a targeted approach, such as the one Sky took in 2021 working with the Cabinet Office on Game Zero, the world's first elite level net zero carbon football match. The following year Sky showed fans the impact of climate change on sport. "Our campaign explained how droughts and flooding are disrupting matches and impacting athletes," noted Ball. "Alongside this we showed sports fans what actions they can take from more sustainable travel and plant-based food options to re-using and recycling. Across the summer sports fans took 1.74 million climate positive actions to help protect the sports they love."
It's crystal clear that Ball's activities are wide ranging. Her days often vary greatly between working with stakeholders inside Sky and collaborating with external partners. "One day I might be supporting our internal teams to ensure our target to reach net zero by 2030 is embedded into the decisions we make around product design and supply chain management," she said. "The next day I might be helping our Young People team to bring more school children behind the scenes of TV with Sky Up Academy Studios. I also work closely with our charity partners such as MAMA Youth to champion diversity and inclusivity within our industry."
Ball says that while the pace of net zero action is accelerating, efforts must be redoubled, especially by those organisations that have not yet made sustainability a priority. "Whether you're a small or large business you need to make sure the fundamentals are in place: Ensuring you have the resource, capability, and skills to move forward; measuring and understanding your carbon footprint; and based on your carbon footprint, setting science-based targets to make sure progress can be made."