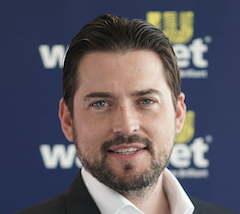 Cloud Aggregator Vuzion has joined forces with Wavenet Wholesale as its first Microsoft CSP Distributor.
Vuzion has added Wavenet's direct routing telephony solution TeamsLink to its portfolio and made it available to its network of partners. 
TeamsLink will be provisioned via Vuzion's CORE platform.
Antony Black (pictured), Director of Wholesale at Wavenet said: "We're looking forward to building on our collaborative relationship."
Mike Korkidakis, EMEAA Channel Manager at Wavenet (who is managing the day to day relationship between Vuzion and Wavenet) added: "Microsoft Teams continues to expand rapidly and partnering our core TeamsLink product and telephony expertise with the strong Microsoft footprint and partner community Vuzion has will continue to support the growth in an ever-evolving climate."
Michael Frisby, Managing Director, Vuzion, stated: "Partnering with Wavenet enables us to enhance our UC portfolio. 
"Covering every UK dialling code and more than 120 international countries, we have already seen partners exceed customer expectations and revolutionise their 'work from anywhere' capabilities."