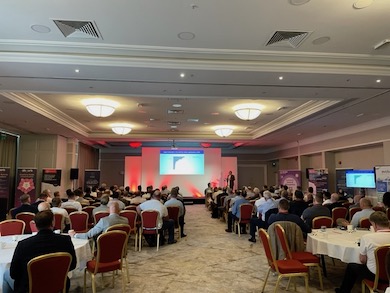 Having stood firm in the face of economic headwinds the channel's ICT providers are eye to eye with an unprecedented opportunity to build on their resilience and accelerate growth in key markets.
And according to speakers at this year's Margin conference (22nd June, Forest of Arden Hotel) those acting fastest stand to gain most.
Keynoters put a spotlight on how the channel's resilience and entrepreneurial spirit should serve as a springboard to further leverage existing and emerging market opportunities. However, underpinning success across all aspects of market development is the customer experience, emphasised Aaron Fox, CEO, TelXL. "A CX stack can deliver great impact if used correctly with 42 per cent of customers willing to pay more if they receive a great customer experience," he stated. "These experiences are rare and 88 per cent of customers cite a negative customer interaction as a reason for shifting to competitors."
 
Fox also noted that the SME sector requires a CX boost and he dispelled the misconception that they are too small to benefit from CX technology. "Customer behaviours have changed and SMEs have to evolve to stay competitive," he added. "Good customer experiences can add 15 per cent to a company's revenues and this will inevitably reflect on the bottom line."
The channel's resilience and entrepreneurial spirit should serve as a springboard to further leverage existing and emerging market opportunities
Voiceflex Chief Commercial Officer Paul Taylor also urged delegates to keep pace with the speed and scale of communication applications moving online. In particular he highlighted the growing popularity of WhatsApp which currently has 30 million users in the UK, with 81 per cent of them using the app daily. Significantly, the platform boasts a 98 per cent open rate.
"This represents the biggest development in the consumer relationship," he stated. "Most customers will use WhatsApp but script-basing an application like this presents a massive revenue opportunity." He contrasted this trend with the decline of traditional comms, forecasting that fixed line communications will see a 75 per cent slump in the next decade. In mobile, Taylor expects an 11 per cent drop in the next two years.
 
Cloud-software growth
Giacom COO Nathan Marke framed the shifting picture in worldwide comms, identifying high growth in software, cloud and IT services. He pointed out that the market for outsourced IT services is currently three times larger than internal spending. And he believes the three pillars of software, cloud and IT services will be at the centre of digital transformation conversations during the coming years. "If you aren't moving in this direction then things are going to become much harder and very soon," he warned.
 
Marke also pointed to the decline of fixed line and the general waning of legacy services, and reiterated that the adoption of substitutional technology will gather pace and create big opportunities for resellers. "There are pockets of growth to be had in traditional comms and it is all about driving the fibre rollout and capitalising on the PSTN switch off," he commented. "These are opportunities that will not wait."
 
The door is also wide open for resellers to capitalise on the burgeoning IoT and intelligent mobile data market. Pangea CEO and co-founder Dan Cunliffe highlighted that there are over 200 types of application requiring network access that will be impacted by the PSTN switch off. For example, there is currently 500,000 point-of-sale machines yet to move from PSTN, as well as over one million telehealth devices.
"It makes sense to replace these with mobile as it is more reliable, more flexible and faster," claimed Cunliffe. "Engaging with these technologies will help resellers move faster in a shorter period of time."
He says the valuations of ICT providers doing well in the intelligent mobile space sits at 6-8x profit. "This opportunity is big, it is here and it is growing," he added. "That looks exciting to anyone in private equity."
 
Multiples like this are a key consideration for ICT providers with and exit in mind, and Knight Corporate Finance Director Adam Zoldan shared insights into the current M&A landscape, indicating that the channel has again proved its resilience despite a slow down in deal activity with 57 transactions in Q1 and 55 in Q2. "These figures were in the 70s and 80s last year," he said. "But PE remains strong with 14 new platform investments and five secondary buyouts in the last year."