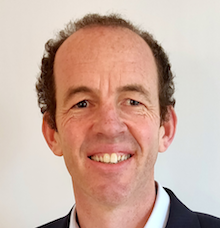 An 'all-in-one' IT and comms solution for SMEs launched by IT MSP Cloudbox UK plugs a gap in the channel market and will transform how smaller firms purchase and consume ICT services and support, claims CEO Nick Goodenough (pictured), who was formerly Partner Service Director at Spitfire.  
The channel-ready cloud-based IT-in-a-box proposition includes IT solutions, security and support and simplifies the adoption of technology by standardising services across organisations using a per user monthly subscription model.
Cloudbox's channel proposition is designed for a range of partners including those without the wherewithal to provide a fully managed IT service; smaller IT companies that prefer to outsource ICT solutions and be more hands-on with on-site customer service and projects; and comms resellers wanting to add IT managed services to their traditional telco portfolio.
"Cloudbox incorporates email, 10 year email archiving, file sharing, compliance, full backup, antivirus, full endpoint security, collaboration tools and Office 365 into one package, taking the complexity out of IT," stated Goodenough.
"With no unexpected costs budgets can be projected more accurately, and with only one set of licences to manage customers have the flexibility to scale up or down as they require."
Goodenough noted that the proposition also offers unlimited IT support for all devices including desktop, laptop, tablets and mobiles, including change requests and new device configurations.
"Small businesses especially struggle with budgeting for IT services and our unlimited support contract protects them from unexpected costs, delays and disappointment," he added.
"Charging separately for IT support leads to problems and is a legacy of the old break-fix model of IT. Properly specified and managed IT should not go wrong."
Goodenough said Cloudbox has invested heavily in automated scheduled maintenance and security management (including patching and constant monitoring) to guard against IT downtime.
"Through offering all-inclusive IT and support at a fixed rate per month, Cloudbox gives SME owners the freedom to focus on their business instead of worrying about IT issues or costs," added Goodenough.
Standing alongside Goodenough are Cloudbox UK Directors Justin Trent, Oliver Potgieter and Nick Watkins – all previously known to each other having worked together in their relative and prior capacities as customers, suppliers and partners.
"Everything we have learnt is distilled into one easily understood and simple-to-use solution that covers what most small and medium businesses need from their IT," stated Goodenough.
Cloudbox began its commercial life in 2011 and has offices in the UK and South Africa , serving over 200 businesses.
As well as its core product, Cloudbox also provides a range of supplementary services including on-site infrastructure, Microsoft Azure hosting and IP telephony.