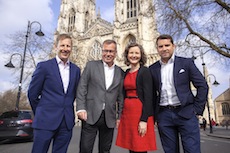 The acquisition of comms firm Local Telecom Service (LTS) by The Technology Group (TTG) adds £1.5m turnover, 400-plus customers and six staff to the Leeds-based ICT provider, which has targeted £15m annual revenues by 2022.
The financial details of the deal remain under wraps.
LTS is a family run business in York where it will continue to operate under its own brand. The company is a Panasonic Solutions Partner.
 
The deal is TTG's second acquisition in 18 months, following the purchase of Hertfordshire-based Exchange Comms in October 2017. According to TTG Acquisitions Director David Marsden another deal is planned for later this year:
"LTS will have access to a wider product portfolio, the latest technological innovations and the broader technical knowledge and resources that comes from being part of a wider group," said Marsden.
 
Former LTS Director Mark Mills added: "We felt there was a synergy between the two businesses and are confident they will continue to look after our team and customers."
 
TTG currently generates £6.5m turnover and also has offices in London and Welwyn Garden City. The company has 39 staff, over 900 customers and telephony solutions in 22 countries.
 
"Acquisitions form one of the key pillars of our growth strategy, which is to reach £15 million turnover by 2022, double staff numbers to 65 and customer numbers to 2,000. This latest acquisition, coupled with continued organic growth, means we are on course to achieve our target."
Pictured (l-r): Mark Mills, David Marsden, former LTS director Sarah Mills and TTG CEO Jonathan Marsden.