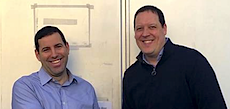 Suffolk-based Ladybird Communications has been acquired by London IT firm T-Tech in a deal that creates a one-stop consultancy and MSP to SMEs and bolsters T-Tech's Microsoft Teams proposition via the addition of telephony.
The transaction sees Ladybird remain a standalone division within T-Tech Group and the financials of the deal were undisclosed.
T-Tech MD Daniel Teacher and Ladybird Head of Telecoms Melvyn Bird have worked together on projects for a number of years.
"This is a great development opportunity for both companies and will allow us to grow significantly together," stated Teacher. 
"We hear frequently that customers would like one provider to manage their needs, therefore the continued merging of technologies makes this development a natural step forward." 
Bird, who carries his job role into T-Tech Group, added: "Joining T-Tech will enable us to scale our business in a way that was not possible before, allowing us to not only develop our portfolio of services, but branch out into new areas."
Pictured: Daniel Teacher (left) with Melvyn Bird