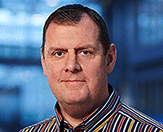 Sangoma has completed its $28m acquisition of Digium, creating a circa $100m business with a combined workforce of over 300 employees.
"Our customers will be the ultimate benefactors of this transaction, with the combined company establishing itself as a leader in enterprise value-based communications," stated Sangoma CEO Bill Wignall (pictured).  
Sangoma had previously provided guidance of $55m in revenue and $6m in EBITDA for fiscal year 2018 which ended on June 30th.  
On August 2nd the company announced that preliminary, unaudited revenue for the full fiscal 2018 year was approximately $57m, and that adjusted EBITDA would exceed guidance.
It is expected that this transaction will increase revenue to about $100m in fiscal 2019, with over 35% of that being recurring/services revenue.  
The company anticipates generating adjusted EBITDA of between $9m and $10m this fiscal year and expects adjusted EBITDA margins to expand to over 13% by fiscal 2020, after overall synergies from this transaction are fully in place (anticipated to be circa $4m).
"Sangoma and Digium have a long history of working together, while also competing in the marketplace, and have got to know each other very well over the years," added Wignall.  
"This transaction will add meaningful sales, create market leadership in our segment, increase recurring revenue materially and allow us to leverage our complementary businesses.  
"During a time of industry consolidation, this transformative merger is another bold step for us in implementing our strategy to scale up and increase shareholder value by augmenting our organic growth with complementary M&A opportunities."
The acquisition, Sangoma's seventh in seven years, provides the combined company with several strategic advantages, including increased scale via significantly higher sales, expanded recurring revenue percentage, stronger gross margins, a more complete product portfolio, a wider network of complementary channel partners.
Mark Spencer, founder and Chairman of Digium, added: "I created Asterisk and Digium to be disruptive in the communications industry. Now it's time to take it to the next stage as part of a larger public company. 
"Given the involvement of both companies in the history of Asterisk dating back to its creation in 1999, Sangoma is the natural home for the Asterisk project. 
"For many years both companies have had teams working to improve Asterisk and make it more accessible. Sangoma's commitments should reassure the Asterisk community that Sangoma is dedicated to the project."