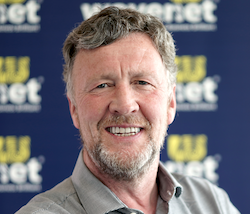 Wavenet's influence in the East Anglian region will be far more strongly felt following its acquisition of Norfolk-based Portal Voice and Data. The financials of the transaction remain under wraps.
The deal comes just weeks after Wavenet snapped up Nottingham located VIA in January, boosting its Office 365 expertise and TeamsLink Microsoft Teams platform. 
Portal Voice and Data was established in 1999 and provides telephony, data, VoIP, cloud and maintenance. Its technology partners include BT Wholesale, Openreach, Virgin and Cisco.
Portal MD John Corney said: "This acquisition will boost the potential of all of our customers, giving them access to Wavenet's portfolio of telecoms and technology services, customer and technical support."
Wavenet CEO Bill Dawson (pictured) added: "Our combined potential and expertise will improve the customer service and maintenance experience, and open Portal customers to Wavenet's portfolio, including TeamsLink, our newly launched Microsoft Teams calling and contact centre platform."
Wavenet boosted its acquisition firepower in September 2018 when it accelerate its buy and build strategy having refinanced its banking facilities and raised a £75m acquisition war chest.
Beech Tree supported the £35m MBO of Wavenet in August 2016.
Solihull-based Wavenet was founded by Chris Jones in 2000.
https://www.comms-dealer.com/ma-finance-acquisition/acquisition-beefs-wa...
The shareholders of Portal Voice and Data were advised by Knight Corporate Finance.