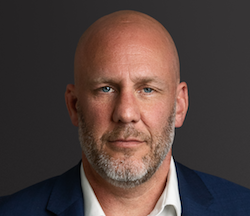 Horizon Capital-backed Sabio's capabilities in the sphere of customer experience automation received a boost following its acquisition of London HQ'd consultancy DVELP, maker of the Airline product.
Airline integrates Google CCAI and Twilio APIs and enables organisations to build, test and deploy automated conversational customer experiences. 
"The AI-based technology helps customers reach resolution more quickly and enables agents to focus on more complex tasks," stated Sabio Group's CEO Jonathan Gale (pictured). 
"CX focused organisations have more technology choice than ever before. And the contact centre and CRM spaces are rapidly evolving through the adoption of emerging technologies such as Google's Contact Center AI and Twilio Flex. 
"We anticipate a significant migration of CX and CC technology to the cloud over the coming years and believe that DVELP will help Sabio clients to benefit from the democratisation of NLU and AI technologies." 
DVELP founder and CEO Tom Mullen added: "The CX industry is on the precipice of a customer service revolution.
"Being part of the Sabio Group will allow us to reach more clients and guide them through their customer experience transformation."
DVELP is a long-standing Twilio services partner credited with advancing its UK growth and contact centre business.
Twilio Chief Customer Officer Glenn Weinstein commented: "This acquisition underscores the Twilio partner momentum in the contact centre market."
DVELP's customers include Google and Marks & Spencer.
The deal builds on Sabio's acquisitions of SaaS solutions provider Rapport and contact centre tech specialist DatapointEurope in 2017. 
The following year Sabio bagged customer insight and contact centre benchmarking firm Bright UK and Singapore-based FlexAnswer Solutions. 
Last year saw Sabio snap up Spain-based WFO and speech analytics company Callware. In January this year Sabio pocketed Madrid located Team Vision.