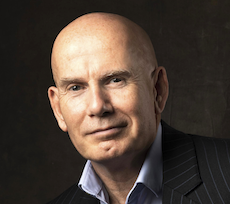 Air IT has kicked off an aggressive expansion campaign led by incoming big guns Ian Brown (Chairman - pictured) and John Whitty (CEO), supported by investment from August Equity that will help the Nottingham-based MSP make bolt-on acquisitions and yield greater organic growth. Air IT MD James Healey becomes COO.
The company began its commercial life in 2005, founded by Todd McQuilkin, and provides managed IT support, digital transformation services, cyber security and connectivity to the SME market. It delivered CAGR of circa 28% between 2017-2019 and services almost 500 customers.
August Equity's model has led to seven companies being exited for a value of over £100m in each of the last seven years. During 2019 the exits of SecureData and Wax Digital returned over £100m to its investors.
Brown worked with August Equity on the exit of SecureData to Orange; and Whitty has led over 40 acquisitions during his executive career at Solar Communications, GCI and Pipex combined.
The investor's high yield hopes rest on building the UK's premier CSP for SMEs, says Mehul Patel, Partner at the PE firm. 
"After SecureData and Charterhouse, Air IT is the third investment for August in the broader managed services space," he stated. "We will use the knowledge and network built over time to assist the management in creating the UK's largest SME cloud provider."
In the lead up to August's backing Air IT invested in people, systems, processes and its product portfolio.
Whitty commented: "To achieve our aspirations, we recognised that we needed a proven, technology aware financial partner which has demonstrated experience in supporting management teams to deliver similar growth previously, and August Equity has a track record in this." 
Brown added: "I am partnering with August again to build a leading UK IT managed services provider following our successful SecureData venture. And I know John is an accomplished business leader through our time together at GCI. 
"Air IT plans to tap into the significant underlying demand for ICT services from SME organisations driven by both digitisation and the major skills shortage throughout much of the UK."
Air IT is one of two enterprise MSPs in the UK to gain the 3-star Service Desk Institute certification accreditation, and delivers customer retention of >97%.