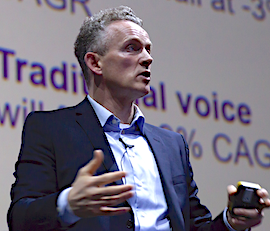 Gamma has snapped up cloud PBX provider gnTel BV, based primarily in the Netherlands but with a small presence in Germany.
     
The acquisition comes under the DX Group in the Netherlands which Gamma owns (and which includes Dean One, Schiphol Connect and Nimsys). The deal trebles Gamma's cloud PBX base in the region and extends its partner footprint.
    
gnTel also gives Gamma a geographic base in northern Germany (near Dusseldorf), building on its recent acquisition of HFO.
  
Headquartered in Amsterdam and with offices also in Delft (NL) and Mönchengladbach (Germany), gnTel has an indirect go-to-market approach with over 300 channel partners.
 
Andrew Taylor (pictured), Gamma's Chief Executive Officer, stated: "The acquisition builds on our existing European operations and advances our expansion strategy."
 
Onno Speekenbrink, CEO of gnTel, added: "Gamma, has a clear UCaaS strategy and with its additional knowledge and experience we can significantly accelerate gnTel's growth process."