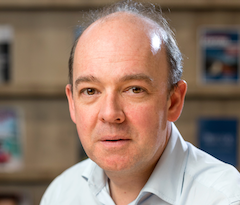 One of the best indicators of how business owners should shape up their organisation for any future planning is the criteria on which PE houses pin their bets, according to Managing Partner David Barbour.
All signs point in one direction: This sector is a great space, a safe haven, and new investors are flooding in. "It's obvious why PE loves this space," stated Barbour. "It offers sensible recurring revenues, not high organic growth, but a cookie-cutter acquisition world where you can bolt organisations together, customers are fairly sticky, the products are quite similar, and you can aggregate and take out some central cost."
FPE Capital is most active at the smaller end of the market and usually the first investor alongside an entrepreneur business owner who wants to push growth organically and/or through a bolt-on. "We'll buy into a business that's £1 million EBITDA or upwards as a new platform investment to create scale," added Barbour. "Therefore the multiples are slightly lower than 10x generally."
He signposted two 'break points': Firstly the £2 million EBITDA mark which means bank debt can be taken on in a meaningful way, or debt funds increased. The second kick point is £5 million EBITDA. These are not fixed markers, but general PE signposts for where funds may go. "We look to boost our businesses with capital, bring in some extra management, and maybe a few acquisitions to get the company up to the £5 million level," added Barbour. "Our funds generally don't have enough fire power to get to the £10 million milestone. So we'll pass the company on. There is a great ecosystem of consolidators above us."
There is no doubt that resellers in the comms sector have moved up the PE agenda. Ten years ago reselling was a near dirty word in PE. Now it's grown up and sits at the middle of the economy as the lifeblood of a business – and you need expertise to deliver services. The difference between BT (4x) and Gamma (20x) is stark. "Resellers have been the forgotten niece, but they are becoming a vibrant and exciting part of the economy with lots of growth, and growth is the key to everything," said Barbour. "We all need to get this segment really driving."
We need to get that entrepreneurial spirit back into these businesses. We love that
He has a clear view that fresh talent will provide resellers with a step up the ladder, believing that an injection of better people will boost overall leadership and business success.
 
"You need good management and good people, and the big challenge for the IT services industry is around bringing in more talent," he commented. "Why? Because the software and cloud elements are crucial to success in the next five to ten years. It's a segment that may be a little pedestrian in some ways, so we need to suck in more smart people.
"We are entering an exciting time and will see good people come out of big companies in the telco space. The era of remote working means we are not tied to hiring expertise within a commutable distance. This is a chance to upgrade people into this segment. We've seen founders build a layer of management beneath them. We need to get that entrepreneurial spirit back into these businesses. We love that."
FPE Capital generally invests in companies with 50 to 100 employees. The change up to 150-200 can be 'painful', noted Barbour. The firm also works with IT services companies and understands how the bigger software vendors work and how to deal with Microsoft. "We are slightly nervous as a house about what might happen at the very small end of the corporate market – the 20 to 100 seat organisations," he added. "So far they seem relatively robust, but I don't think we've seen the worst of the pinch."
Resellers have been the forgotten niece, but they are becoming a vibrant and exciting part of the economy with lots of growth
Six months into Covid-19, PE is digging into clients, asking whether they will be here in a year's time, will they be spending the same – a lot of this is sector specific. "Even if they halve their spend they will probably build it back up over the next 12 to 18 months as they rebuild their IT and regain confidence," commented Barbour. "This disruption will be choppy for some. It's not a one way bet in this sector and we are seeing the next iteration of the Covid-19 pandemic. Businesses will slim down their offices, maybe move or deploy to shared work spaces. There is potentially a huge amount of churn here, so it's better for resellers to be facilitating these shifts now because those loyal customers are going to be very important on the other side."
Resellers will pay dearly for a half-hearted response to Pandemic Britain, especially when strong engagement with the market and tech developments provides scope to ensure long-term sustainability. "We are going to see change: Voice will decline, mobile will be flat to declining, but the cloud, cyber, IoT, telematics, the smart home etc is all going to converge," observed Barbour. "Many of the IoT services businesses are natural platforms for people who want to bring in some of these more exciting areas.
"Cyber is also key following the rise off more vulnerable at-home networks. Corporates mainly had no work from home policy around cyber, but on March 19th were forced to shift to a home working environment. We are seeing people play catch up on cyber and cloud implementations. That is where the wave of work is going it be. Hardware and fibre connectivity will become consolidated, commoditised and low margin."
Organic growth in the market currently sits at around 10 per cent. To go faster requires acquisitions, so Barbour wants to be invested in nimble small service-led organisations. "Let's say the business is doing £2 million EBIDTA and the founder wants to release some capital," he said. "We want founders to be aligned with us in pushing harder, and this works much better if they have more security in their family life. The general rule of thumb in PE is 50-50 – 50 out and 50 in. If the founder believes the story, they should make a lot more money in the second round.
"In many cases we see one maverick entrepreneur who has brought a business up. But what they need is bench strength, three or four people around them with more systemisation of sales and marketing. There are some real nuggets to get out of a business with a bit more sector expertise. But ultimately it is about the top two or three people, their energy, expertise and how well they drive it. It is up to us to get people in to help the founders."