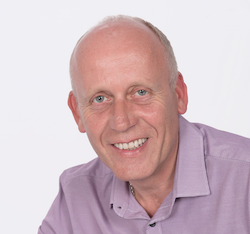 Greater emphasis on building a strong reseller channel, and becoming an all-embracing hosted comms provider supported by an engineering pedigree, will lead the way for X.Comm, says CEO John Dowbiggin.
Sector experience is of course an important factor in facilitating the development of channel growth ambitions, but few business leaders have the breadth and depth of experience as Dowbiggin, who has an impressive 35 years experience working in the telecoms industry. Prior to setting up X.Comm he was Managing Director at AboveNet UK, turning the company from near bankruptcy into a thriving managed IP/fibre optical service provider based in the City of London, now part of Zayo Group.
He was previously VP for IP Solutions at Cable & Wireless UK & Ireland, joining the company through its acquisition of Internet Network Services, one of the UK's largest Tier 1 ISPs where he was National Sales Director. Before that he was Director, South East Region for Telewest Communications (now Virgin Media), which at the time was the UK's largest telecommunications, cable TV and ISP.
 X.Comm has been trading since 1987 and operates through the SIP Trunking Services, X.Comm, LineBroker and Acuity Unified Communications trading names to ensure its range of products are correctly positioned in the marketplace. "We are a full-service provider offering telecommunications and Internet related communications services to the mid to upper SME market and lower corporate," said Dowbiggin. "We specialise in integrated UC services, networking and other cloud-based technologies."
The company operates from a number of data centres and works with key technology partners including Cisco, Microsoft, Ping Identity, Asterisk, Loway, Swivel Secure, Juniper and Pulse Secure. "As the market moves closer to being entirely cloud-based, with the PSTN/ISDN switch off in December 2025, we are evolving to ensure we provide the latest services for our customers, but at the same time we have taken a strategic approach to growth," explained Dowbiggin. "The acquisition of cyber secure SIP trunking business 500 Ltd, for example, enabled us to acquire its reseller channel customer base together with the self-service provisioning portal. It also added Fraud Mitigation which protects customers from the financial and legal consequences of toll fraud on SIP."
Security matters
The fraud protection software portfolio delivers security for mobiles and SIP connectivity, while meeting the suite of telecoms service standards defined by the Federation of Communication Services. As well as resellers, the acquisition delivered what is now known as the SIP Trunking Services Portal (STS Portal) into the portfolio, enabling resellers to self-provision services including hosted seats and SIP trunks (many of which are 3CX resellers). "We provide the white labelled billing on their behalf," added Dowbiggin. "STS is a reseller model and the portal and platform provide resellers with an alternative to the mainstream suppliers out there."
As the market moves closer to being entirely IP-based, resellers need to ensure they have a watertight partnership with a hosted telephony company
X.Comm's first major milestone was the deployment of its own hosted platforms in 2012 removing any reliance on third parties. "We then brought on board a major UK PLC, quickly followed by a major public utility," added Dowbiggin. "In 2016 we acquired the customer related IT and telecommunications trading assets of The Integral Group which increased our portfolio in the IT support services we provide."
In recent years average customer sizes have ranged between 50 and 250 users with sales pipelines showing a continued increase in average customer size. "Our expertise in Wide Area Networking and use of high end Cisco and Cisco Meraki equipment has seen an increase in larger customers wanting networking solutions," said Dowbiggin. "Going forward, growth will be organic and, if possible, via acquisition. We have around 20 employees mainly within our engineering department. We are always looking for companies that have a good fit in our organisation should we acquire them."
Key acquisitions
More recently the business acquired X.Communications which specialises in Government and large corporation security solutions, including MFA, and LineBroker, one of the UK's larger better known leased line price comparison sites. "We culminated two years of work and became ISO 27001 and ISO 9001 accredited," said Dowbiggin. "These accreditations mean we can work with larger organisations that require their supply chain to be accredited."
Dowbiggin continues to focus on the core product of hosted telephony services and through previous acquisitions he is now looking to push security products including MFA. "The entire UK is moving to IP-based telephony," he said. "A lot of potential customers have already had some experience of hosted services, so they are better informed and more knowledgeable. That means they have higher expectations. As the market moves closer and closer to being entirely IP-based, resellers need to ensure they have a watertight partnership with a hosted telephony company. Partners that can deliver a spectrum of services provide a consistent approach."
Dowbiggin believes that X.comm, through its SIP Trunk Services reseller brand, can meet these demands, especially as a number of partners already sell a range of products supported by the company. "The core product of hosted telephony has always led our business, with enhancements along the way," he stated. "Our Wide Area Networking offering has also grown.
"However, development is key to our success and as we launch ourselves on the ZoHo Marketplace with our own developed integration to ZoHo, together with our work in doing the same for NetSuite CRM, we see opportunities with larger clients that want full hosted telephony integration with their CRM systems."
Biggest opportunity
According to Dowbiggin, the PSTN/ISDN switch off in 2025 and the move to all-IP is the biggest opportunity the comms market has witnessed for a long time. "We see our customer base via reseller partners growing quickly due to the PSTN switch off," he said.
"We want to do more with resellers and are already seeing large numbers of SIP trunks being added by partners via our self-service portal. We would expect to win our fair share of this market shift through our reseller base, providing them with support in what is likely to become a very busy period."