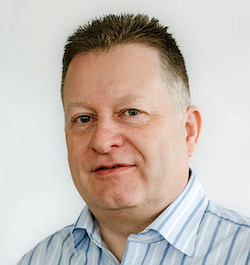 Market developments are opening up big opportunities for resellers and SD-WAN is one of the hottest, but a precondition for driving growth is staunch tech and channel partnerships, says Evolve Business Group CEO Alan Stephenson-Brown.
Resellers are facing a significant opportunity to capitalise on the growing popularity of SD-WAN, a market that's forecast to grow from $3.4 billion to $13.7 billion by 2027. And by leveraging strategic partnerships, fostering strong relationships and embracing the growth of SD-WAN, resellers can navigate the changing comms market to their great advantage, believes Stephenson-Brown. "In this dynamic landscape strategic partnerships are more important than ever," he said.
By leveraging strategic partnerships, fostering strong relationships and embracing the growth of SD-WAN, resellers can navigate the changing telecoms market
Evolve has forged close relationships with key partners including SD-WAN specialist Mako Networks. The collaboration spans more than a decade and according to Stephenson-Brown enables Evolve to 'stay ahead of the game' in terms of providing secure and flexible networks. "As Mako's only Platinum Partner worldwide we work in close collaboration to enhance its product offerings with new features," commented Stephenson-Brown.
Evolve also has a strong partnership with ANS Group in a relationship that combines portfolios to create mutually beneficial opportunities for customers. In fact, partnerships are top of the agenda and Stephenson-Brown noted that Evolve has made a significant investment in the reseller channel, with 200 hours per week going into designing a channel that unlocks new opportunities. "The new reseller channel and portal advances our mission to help multi-site brands unleash their potential through network technologies," stated Stephenson-Brown.
"Our immediate priorities are to support the businesses that have already signed up to use the portal. At the same time, our in-house development team continues to work on the channel. Looking ahead we will carry a growing number of products including services for mobile and IT in the next 12-18 months."
Growth strategy
The growth plan includes increasing Evolve's network management footprint from 9,500 locations to 15,000 within the next three years (the company has expanded its services into 11 countries), with a focus on creating local jobs. "Our ultimate objective is to foster strong and meaningful partnerships with our customers worldwide," explained Stephenson-Brown. "To achieve this goal we are focused on enhancing our service and solution offerings."
Giving partners and customers what they want and need was the catalyst for establishing Evolve in 2005, to address a gap in the market for a fully managed network solution under one roof. "We recognised that businesses often struggle to find a single provider which can manage all aspects of their network, from design and implementation to maintenance and support," explained Stephenson-Brown. "By bringing together a team of experts in various areas of network management we can offer a complete solution for all customers."
Evolve's three primary services – namely business connectivity (EvolveISP), SD-WAN (EvolveWAN) and Guest Wi-Fi (EvolveODM) – combine to meet the connectivity requirements of all organisations, noted Stephenson-Brown. He said that patented SD-WAN Level1 PCI-certified technology offers hardware with software-defined WAN paths, ensuring layers of redundancy, high availability and cloud-based control. "Our goal is to seek out partners which share our values and mission, and are equally dedicated to tailoring solutions," added Stephenson-Brown.
The growth strategy is also built on important acquisitions including Preston-based IT firm GB3 from EG Group in 2022 which created an IT services hub in Lancashire (EvolveIT). The following year Evolve swooped on Sheffield-based mobile telecoms provider 4G Voice and Data (4G VD) which was best known as a provider of 4G and 5G mobile SIM cards and devices. "This transaction was the latest stamp in our footprint across the north of England that spans Yorkshire, Lancashire and Greater Manchester," added Stephenson-Brown.
The new reseller channel and portal advances our mission to help multi-site brands unleash their potential through network technologies
Under Stephenson-Brown's wing, Evolve (which has a headcount of 99) currently generates 43 per cent year-on-year organic growth, has increased revenues to £18.3 million and (as mentioned above) introduced the first PCI Level 1 certified secure network management solution to the UK market. Stephenson-Brown's career spans 28 countries and includes securing major contracts with Barclays, the Royal Bank of Scotland, Tesco and co-founding TNS. He also spearheaded the corporate side of Tuxedo Money Solutions and headed the international sales and business development for Phoenix Managed Networks.
As well as leadership expertise underpinning Evolve's expansion, the company follows a policy of ongoing development around its 24/7/365 Network Operations Centre which is housed within its head office in Wigan. "We have invested in a team of skilled engineers who have driven a customer satisfaction score of 98 per cent over the last 12 months," added Stephenson-Brown. "Eighty six per cent of all fault tickets last year were raised proactively to inform our customers that, while they were still live and able to operate, they had in fact failed over to either their back up fixed or wireless connectivity."
Proactivity is also key to maximising the 2025 PSTN switch off opportunity, pointed out Stephenson-Brown. "But our biggest opportunities lie in the connections we make with like-minded individuals and organisations in the industry," he added. "Evolve's team, partnerships and connections are our greatest assets and we intend to establish many more in the coming years."
Just a minute with Alan Stephenson-Brown...
Role model:
My boss from more than 30 years ago, Jack McDonnell. He taught me the value of looking after customers and respecting employees.
Your biggest fear?
Heights!
Your main strength?
I'm a positive person and would like this strength to rub off on my team. You must stay positive in life.
Three ideal dinner guests:
Whitney Houston, the love of my life! Winston Churchill, it would be great to understand him as a person rather than a politician. And Martin Luther King, to understand his inspiration and drive to do what he did.
In hindsight:
I would have taken more business risks at a younger age.
If you weren't in ICT what would you be doing?
Probably in hospitality.
How do you relax when not working?
Walking, cooking, researching malt whisky and eating at amazing restaurants.
The biggest risk you have taken:
Leaving a great career at HSBC to join a start-up to transform the payment industry at TNS.
One example of something you have overcome:
A fear of speaking in public. I overcame this when, aged 14, I was asked to read a citation for Violet Carson at Manchester cathedral. Now, public speaking is something I enjoy.
Best advice you have been given:
Take a breath before responding to anything.
Biggest achievement:
Completing my specialist Masters degree (MACD) while working full-time growing a new business and bringing up two young children.
Top tip for resellers:
Adapt to industry changes to remain competitive.