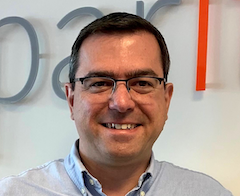 Transparity Solutions has stormed into the premier league of Microsoft partners in short time, fuelled by 80 per cent year-on-year growth.
Here, CEO David Jobbins shares his strategic and personal insights into the various stages of his remarkable supercharged journey.
Jobbins founded Microsoft-only Transparity with Colin Macandrew in February 2015. Already, the Ferndown-based business has 150 staff (set to rise to 200 by Christmas) and is on target for £26 million revenues this year, an increase of £11 million on the previous year. "Starting a business with a little savings and no financial backing other than a few credit cards was a risk," said Jobbins. "Life was expensive and we enjoyed lots of holidays with the kids, so having zero really grounded me. We had the confidence we would be successful, and worked hard to make sure we were."
Transparity now has circa 300 customers across most verticals, from 30 user SMBs to 46,000 user enterprise organisations. "Going from a turnover of zero to £26m in less than seven years creates lots of transformations," stated Jobbins. "But the highlights include a heavy investment in our Security Operations Centre, expanding into New Zealand to create 24x7 support and security monitoring, and most recently our acquisition of AMT Evolve to enhance our Teams, SharePoint and Power Platform offerings."
The big ambition is for Transparity to become the best Microsoft partner in the UK with 300-plus employees. It's already set to become the most accredited partner in the UK. "We offer Microsoft cloud services, which is a continually growing proposition," commented Jobbins. "We help people who aren't using Microsoft tools and those that want to further leverage the Microsoft cloud. And as Microsoft develops its product set, we also adapt quickly to offer these solutions for our customers."
Business requirements for technology have changed significantly, particularly since Covid and the subsequent lockdowns, and has contributed to the growth at Transparity as organisations look to move to the cloud and enable remote and hybrid working, streamline processes and tighten up security. "Most importantly, Transparity continues to evolve as we grow our team," added Jobbins. "We couldn't do any of this without our 150-plus staff."
The biggest lesson I've learned is to not forget those around you, the families they have and challenges they face at home as well as at work
Jobbins also wanted to build an honest, open and transparent company for staff, suppliers and customers – hence the name Transparity. "We wanted a culture where everyone is valued equally and has a voice," explained Jobbins. "From me as the CEO all the way through the business, everyone is equal and plays an important part. Too many resellers in this industry don't put enough focus on their staff or value the people around them. Value the team around you, and they will value you and your business so much more than you think they will.
"The biggest lesson I've learned is to not forget those around you, the families they have and challenges they face at home as well as at work. Through the many pressures of growth, the times I've forgotten this have been the times I've failed and had problems. If you respect everyone in the team, you get a mutual respect that delivers a performance that words and money cannot buy."
According to Jobbins, the customer has also been forgotten for too long and organisations in our field have been too focused on their own agendas, not what the customer needs. "Cloud technologies help break through this with firm standards that cannot be altered for profiteering," he added. "The market needs to focus more on the customer's customer through driving a better engagement and utilising advanced cloud technologies, such as Teams with Voice and bespoke applications."
Jobbins' objective is for Transparity to become the UK's leading Microsoft partner in all areas, also emerging in Europe and beyond. To achieve this happy state he is focused on five growth areas across Azure DevOps, Security, Enterprise Voice, Data and AI, and the Power Platform.
"DevOps is important as many organisations are moving to Azure, but most of the market migrations are just lift and shift," he said. "Where's the value in that? The true value of Azure is seen when our customers' environments are built specifically for them on platform, rather than just copied to Azure. With Enterprise Voice often a forgotten part of cloud migrations, there is a real opportunity to mature customers' Teams experiences by taking voice into the platform and away from ageing PBX systems. This gives a holistic communications experience for staff and customers. Then there's Power Platform, Power BI and the Power Apps toolset that helps businesses transform the way they work.
"There are a lot of changes and development within the Microsoft stack, meaning that we have to keep on our toes to be ahead of our competitors and give the best value for our customers. Furthermore, technology needs to be secure and reliable – more so now than ever – and the security tool set is advancing at an incredible rate."
Transparity's accelerating rate of growth is reflected in a number of milestones quickly reached on its journey. "The first milestone was month five: I was able to pay myself and Colin £1,000 each," said Jobbins. "It was the best £1,000 I have ever earned! More recently came two of our ultimate milestones – getting funding from Beech Tree Private Equity which helped to expand the business, including our 24x7 operation in New Zealand and the first Microsoft-only Security Operations Centre. Selling part of my business and getting investment, as well as choosing the right PE partner which shares our company values, was the hardest decision last year. It has been a massive benefit for the company and we're just getting started."
Just a minute with David Jobbins...
Role model:
People like Richard Branson inspire me. Outside of business I always take my inspiration from my parents, family and faith.
Tell us something about yourself we don't know:
I have struggled with dyslexia since a child which didn't help my education. Now I encourage the use of technologies to help hidden disabilities such as dyslexia. Over the years I've done well with few qualifications, and today I like to inspire others with disabilities and few qualifications to go for their dreams.
Your strengths and what could you work on?
I'm a man of great empathy. But I need to work on my patience and perfectionism.
What do you fear most?
I've always feared failure, but I shouldn't.
What talent do you wish you had?
To touch type and do more than one thing at the same time.
Industry wish:
To make it an honest and equal place for everyone. Sadly, there's an industry-wide problem where the words diversity, integrity and honesty are used in marketing but not acted out in real life. Get this right and success speaks for itself.
Best advice you've been given:
Make sure that everyone you hire is better than you, and don't be uncomfortable being the weakest in the boardroom.
One example of something you have overcome?
Lockdown. We went into it with 45 staff, weathered the storm and emerged with over 150 employees.
Who do you admire most in the channel?
All the people that have started businesses from nothing. And business leaders that value their staff more than they do their profits.