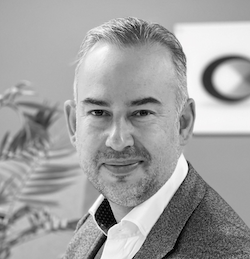 Creative ITC Group MD Keith Ali aims to build a £400m revenue business within five years and has rallied VARS and MSPs to take on the hyperscalers and unlock significant private cloud value through strategic partnerships.
In Ali's view, it's vital for technology VARs and MSPs to seize an opportunity to capitalise on the trend of businesses repatriating from public to private cloud infrastructures, especially at a time when the global cloud market is expected to be worth nearly $600 billion this year. But he warned that concentrating on the hyperscalers leaves a 'huge share' of the cloud industry at risk of being sidelined. "Despite growing concerns around TCO, data governance and support availability, hyperscalers Amazon, Microsoft and Google still dominate the cloud market, accounting for approximately two thirds of global cloud revenues (excluding China)," stated Ali. "And they're growing at a faster rate than smaller providers. The emphasis from vendors on public cloud is only compounding the situation."
According to Ali, many MSPs aren't in a position to do anything other than offer public cloud solutions. Therefore Creative ITC has launched a channel partner programme that includes private cloud solutions with a range of fully managed private, hybrid and multi-cloud options, enabling MSPs tap into new revenue streams.
We took on the big boys and SNC-Lavalin chose David over multiple industry Goliaths. We're punching well above our weight on a global stage
The timing of the launch is key. Ali observed that cloud repatriation is starting to 'snowball' as companies evolve their technology strategies. He also noted that Creative ITC, which was founded in 2006 by CEO Eamon Murchan, more than holds its own against the hyperscalers and is now a well established global cloud services provider itself, delivering private cloud solutions and managed services across five continents. "We took on the big boys and SNC-Lavalin chose David over multiple industry Goliaths," added Ali. "We're punching well above our weight on a global stage."
New client wins are always acknowledged as company milestones, not least the first million pound deal a decade ago. "These momentous occasions still act as a catalyst to springboard the company forward," said Ali. "Success breeds success and Creative ITC continues to go from strength to strength."
The company has tripled in size over the past five years, and last year revenue grew 30 per cent while EBITDA doubled. In 2022 it opened three data centres, onboarded 12 new clients, welcomed 34 team members, introduced four additional services and rolled out its channel partner programme.
"We recognised the market opportunity to establish a channel division, opening up new income streams while supporting other IT companies on their own growth journeys," explained Ali. "Growing customer demand for IT systems that are easier and cheaper to manage is fuelling the growth of MSPs. The programme makes it easier and quicker for partners to deliver new services. They can access managed solutions, additional technical support, our cloud expertise and global service capabilities."
In the next three to five years Creative ITC will be a £400 million business
Another clear development has been Creative ITC's speciality in the Architecture, Engineering and Construction (AEC) sector. "Our enterprise scale DaaS roll out for BAM broke new ground in the AEC industry," claimed Ali. "And our contract win with SNC-Lavalin last year was the company's largest deal to date. But more importantly, it's evidence that our business strategy is paying off."
Last year the company was hailed as the number one AEC Cloud Services Provider in the UK, became the first UK VMware partner to achieve all seven MSCs, was crowned NetApp Platinum Partner of the Year and won three industry accolades as well as four UK best workplace awards.
Ali also noted that Creative ITC is well positioned to take advantage of the transition towards Everything-as-a-Service, providing solutions that meet future needs while dovetailing with existing IT investments. As-a-Service offerings complement Creative's VDIPOD platform and can be utilised as customisable solutions in their own right.
"Hot on the heels of infrastructure virtualisation, application virtualisation is burgeoning," he added. "Yet compute and storage – and therefore virtualisation – are coming closer to the edge. This increases the need for greater workload mobility, automated operations, improved performance and resource availability. These are some of the main drivers behind our focus on solution development."
To help clients future proof their IT and overcome challenges when modernising IT systems, Creative ITC has also developed a Modern Application Platform (MAP) based on kubernetes designed to de-risk legacy system updates while stretching budgets through container orchestration and performance improvements. "It's a single-stop solution for updating older software to the latest languages and frameworks, while simplifying scary and costly cloud transitions," said Ali.
But for Creative ITC, the best is yet to come according to Ali, who joined as Managing Director in 2013 after a stint as head of technical strategy at Cisco, spending eight years overseas running IT departments throughout APAC and the US before leaving to join Creative ITC. "We've enjoyed phenomenal growth and the stage is set for that to continue," he said.
"This year we step up another gear. We're in investment discussions to fuel development through both organic and inorganic routes, and in the next three to five years Creative ITC will be a £400 million business. Watch this space."
Just a minute with Keith Ali...
Role model:
An old boss of mine who showed me how to be a leader, have no preconceptions, ignore reputations and give everyone the same opportunities and respect.
 
Your main strength and what could you work on?
My vision and firm belief that anything is possible is a strength. But I still need to work on my patience.
If you weren't in ICT what would you be doing?
I love DIY, so a builder or carpenter.
Tell us something about yourself we don't know:
My guilty pleasure is watching reality TV, particularly talent shows.
Three ideal dinner guests:
Richard Branson, I admire his approach to business and his vision; Sylvester Stallone, I grew up watching his films and was struck by his self-belief; and Piers Morgan, love him or loathe him, he always stimulates interesting debate.
Best advice you have been given:
Self-doubt is not only common, it's universal. Don't let it limit or stop you. Listen to it, overcome it and move forward.
Industry bugbear:
Global network connectivity remains a huge challenge for the industry. SD-WAN has gone some way to overcoming the issue but really, it's a way of treating the symptoms rather than tackling the root cause. The problem still exists.
Lesson learnt:
When you're setting out it's tempting to recruit more junior people to maximise staff budgets, but this often proves to be a false economy. Experienced team members bring more skills from day one and can fuel company growth much faster.
Top tip for resellers:
Find a partner who really understands what you're about and can help you on our journey.