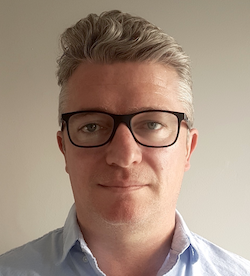 Many of today's successful telecoms leaders honed their sales skills in the high-octane environments of high street phone shops back in the nineties.
Chief among them is Coolwave Communications Commercial Director Ronan Higgins who deftly adapts the firm's as-a-service propositions to the shifting sales landscape.
Higgins cut his milk teeth in telecoms selling Nokias and Motorolas and the experience quickly determined his future career path. "It's where it all started for me," he recalled. "Working in a phone shop on the high street back in the day made me realise how much I enjoyed sales and gave me the push to delve deeper into the industry. I've kept the same excitement and energy for our industry which drives my passion for Coolwave and everything we're about."
Higgins then moved into B2B sales for mobile, fixed voice and broadband, before becoming a Channel Partner Sales Manager, then Sales Director at Imagine Communications Group. In 2011 he became Coolwave's Commercial Director and a decade on still gets a buzz from negotiating deals. "I'm still enjoying it to this day," he enthused. "The market is constantly changing which makes it an exciting time to be in telecoms."
Founded in 1998, Coolwave Communications is a voice and messaging specialist and now operates across the globe with a presence in Amsterdam, Dublin, Frankfurt, London and Singapore. It's parent company, the Imagine Group, is a 5G-ready fixed broadband network operator that has provided metropolitan and rural broadband services in Ireland since 2002. The company is backed by Brookfield Asset Management, a global asset manager with over $385 billion in assets.
Higgins says his company's raison d'etre is to make it simple and efficient for carriers, OTT players, CPaaS and XaaS providers to expand their voice and messaging capabilities with tailored solutions. "Our relationships with global operators and resellers enable us to deliver multiple services across all continents," he explained. "We bridge the gap between the traditional world of voice and messaging and the next generation of platforms, OTT services and applications."
Higgins has seen and managed many sea changes in Coolwave but none as challenging or rewarding as the shift to 'as a service' solutions. "The biggest change for us over the last few years has been our digital transformation and making the move from more traditional telecoms services to a much wider scope of solutions, "he commented. "We've partnered with experts across the industry to grow globally and extend our offerings for customers with SMS (A2P, P2A and RCS), two-way voice and messaging, and enabling telephony for Anything as a Service (XaaS) solutions like UCaaS, CPaaS and CCaaS."
Higgins is also mindful of the evolving needs of partner customers in fluctuating market conditions following the Covid-19 pandemic. "Hybrid working is here to stay so we're developing our portfolio and looking at new partnerships," he added.
In terms of future developments and creating new revenue streams for partners, Higgins believes there is 'massive' growth potential in IoT and the provision of eSIMS. "The eSIM is surging in popularity so we'll be ensuring we can enable the success of these for our customers and their end users globally," he said.
Higgins works with a growing cohort of MSP partners and has a simple message to those seeking to continue building value. "Customers want better experiences without exhaustive costs," he stated. "For MSPs, the key is to stay agile, pivot quickly and follow the market while keeping services bespoke. User experience needs to be a focal point in evolving solutions – while keeping everything simple."